Pine cones can be used for a wide variety of crafts and decorating ideas. They are so festive, interesting, versatile and free. Take a look at these cool pine cone craft and decoration projects, which include pinecone reindeer ornaments, pinecone garland, pinecone Christmas tree, pinecone refrigerator magnets and such on. There are so many lovely things you can make with these convenient materials to bring nature home for the holidays!

Snowy Pinecone Mason Jar Luminaries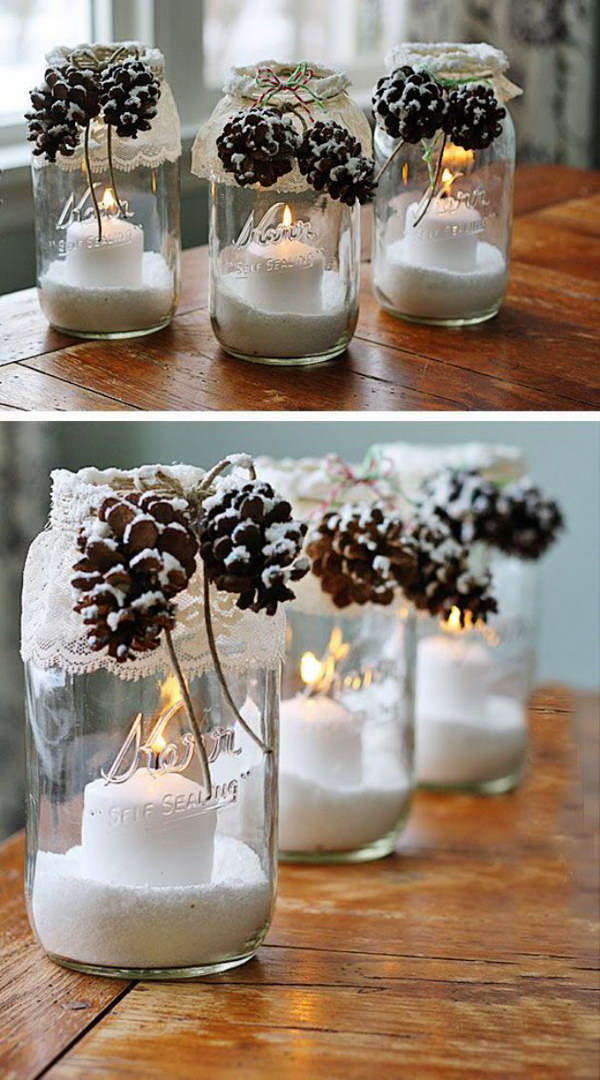 The luminaries are so simple to make! Check out the tutorial via craftsbyamanda.
Glitter Pink Pinecones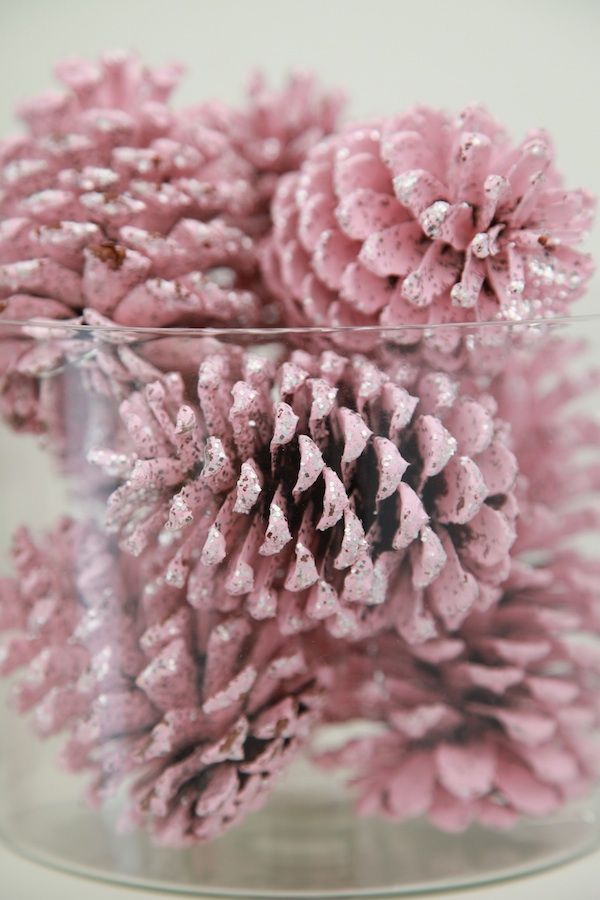 How beautiful! These pink glitter pinecones are an absolutely stunning. They would make for a fabulous centerpiece on a dinner table and can set the mood even better than candles would. Via shabbyfufu.
Pinecones in the Vase with Tall Floral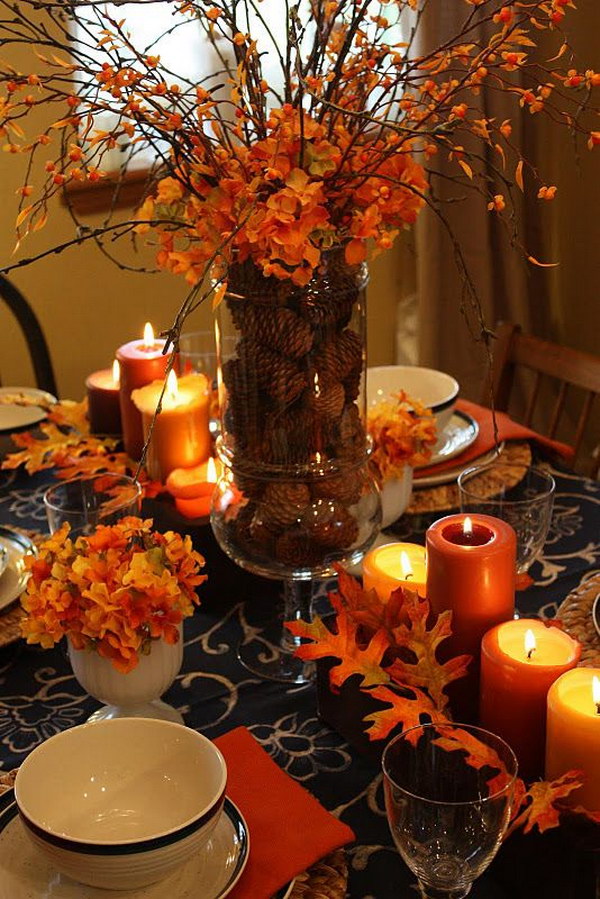 It's a traditional to take some pinecones from your backyard to add a natural touch to your fall home. Here is a great example of how to dress up your fall table with pinecones and tall floral in the vase for fall and Thanksgiving. Love the color scheme! Get the tutorial via sweetsomethingdesign.
Pinecone Wreath Tutorial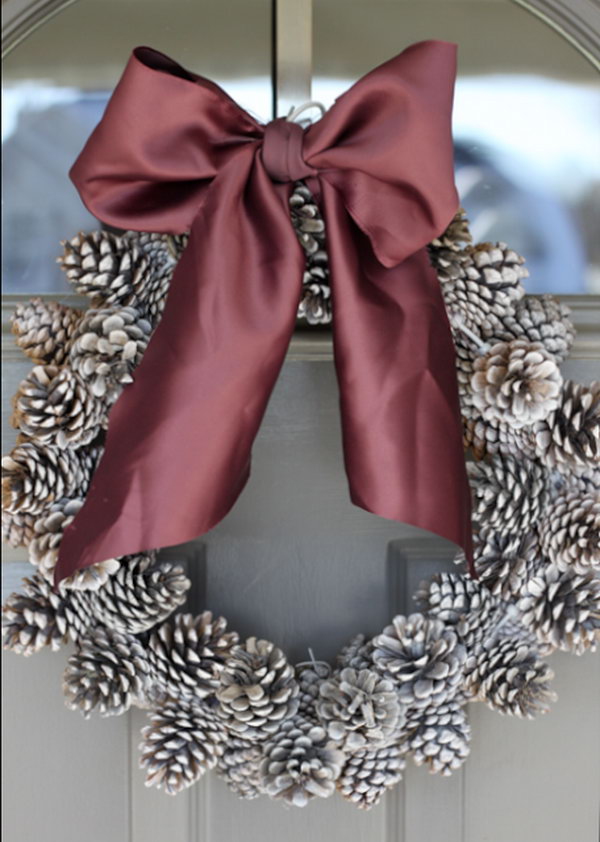 Create a rustic pinecone holiday wreath with these simple step-by-step instructions via doityourselfdivas.
Bucket with Christmas Ornaments, Sticks, Burlap Ribbon and Pinecones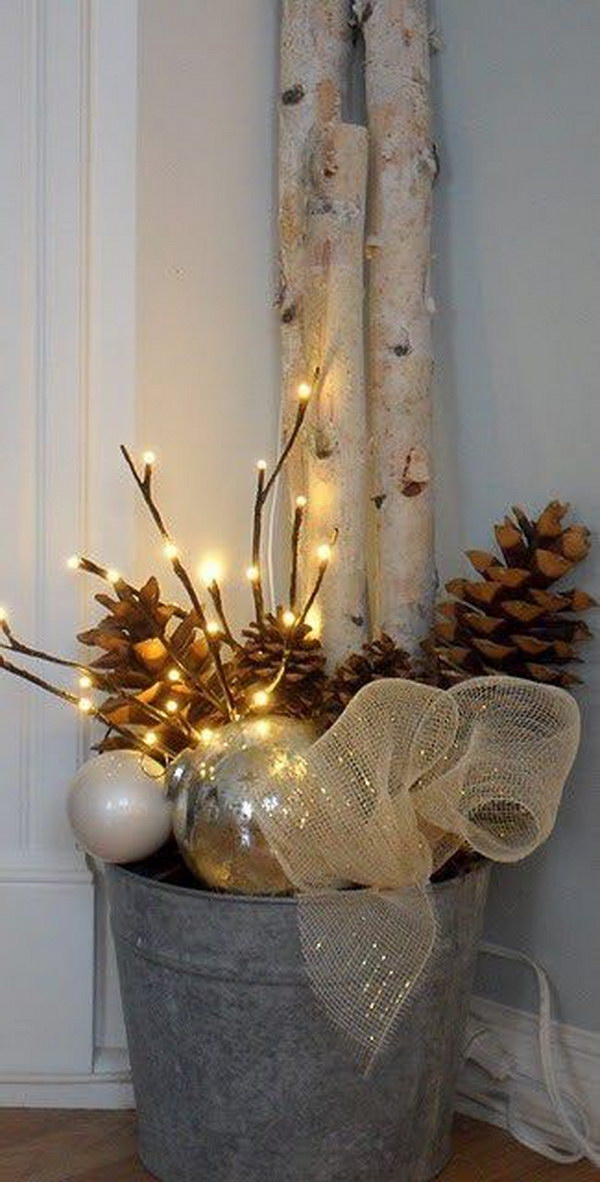 The bucket with lights, branches, burlap ribbon and pine cones are cool to light up your front porch in the winter. And it adds to a cozy and inviting feel to the space. Via thegardenglove.
Use Ribbon to Make Pretty Pinecone Ornaments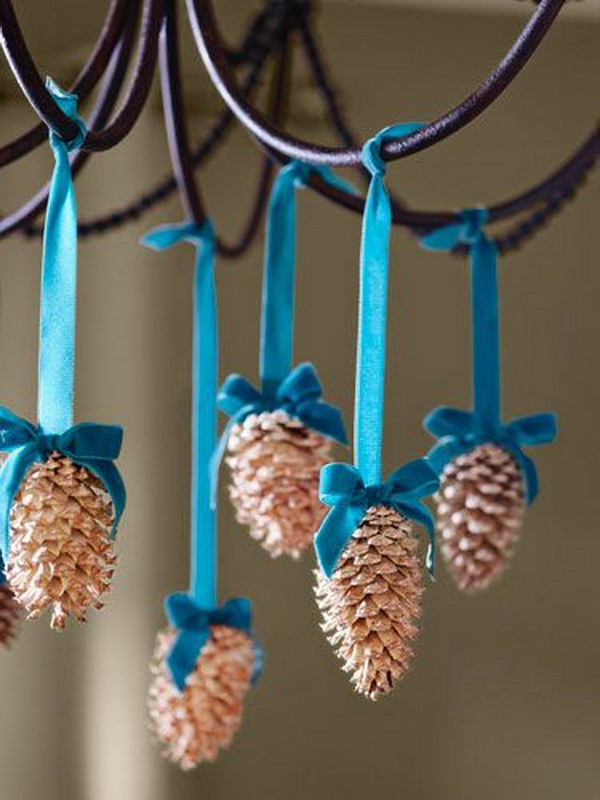 Screw hanging hooks into the top of pinecones and add colorful velvet ribbon. Hang these beautiful ornaments from your chandelier. What a beautiful and natural way to decorate your home! Via countryliving.
"Frosted" Pinecones and Branches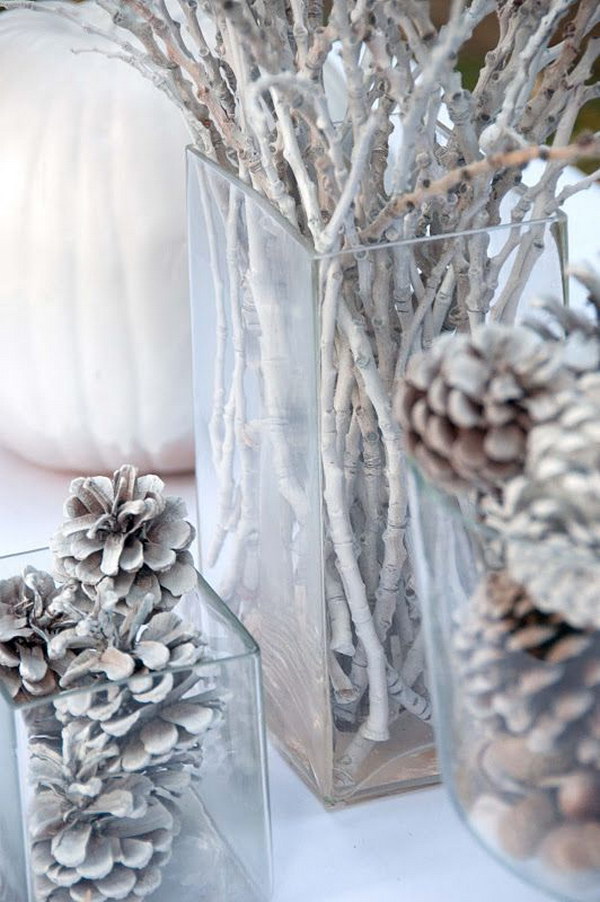 The pinecones and branches are easy to make with spray paint. Via aestheticnest.
Pinecone Christmas Trees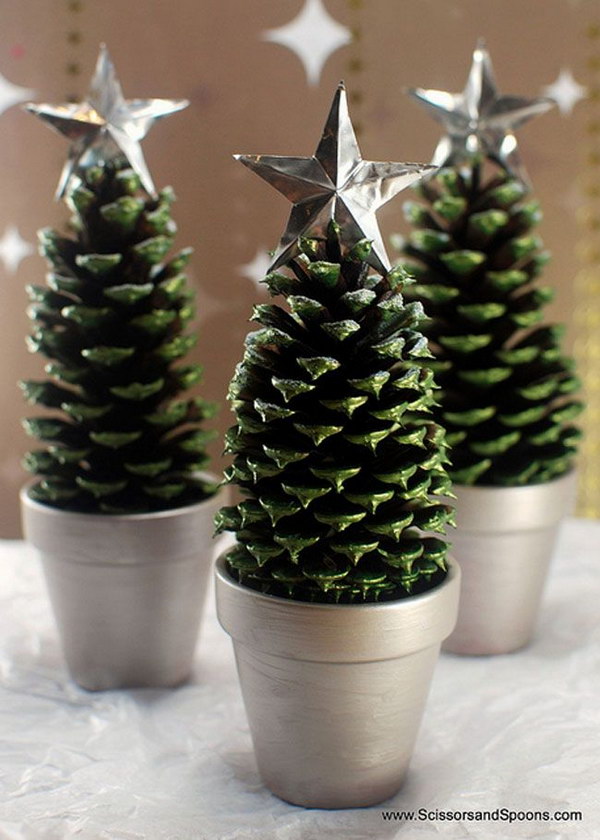 Cute idea to use pinecones for Christmas trees. Get the tutorial via scissorsandspoons.
Epsom Salt for Snow with Pinecones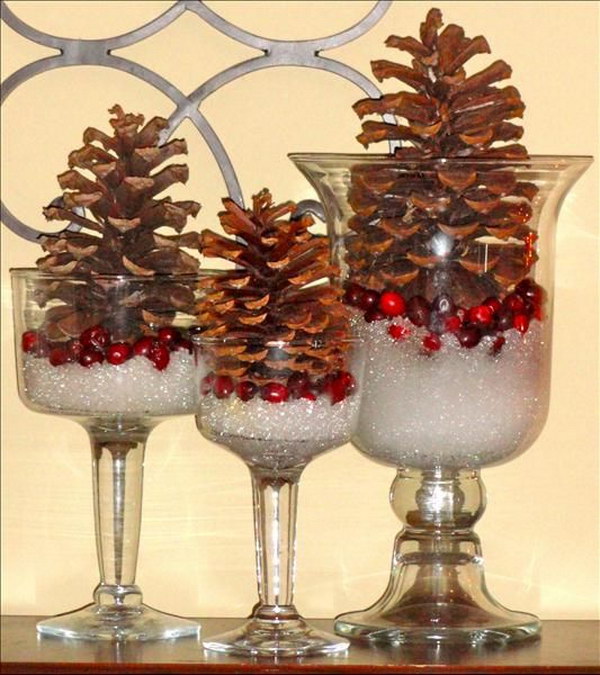 Take goblets or hurricane vases, fill with Epson salts for snow and red cranberries to pop up and top with a pinecone. Via shabbyinlove.
Pinecone Refrigerator Magnets Tutorial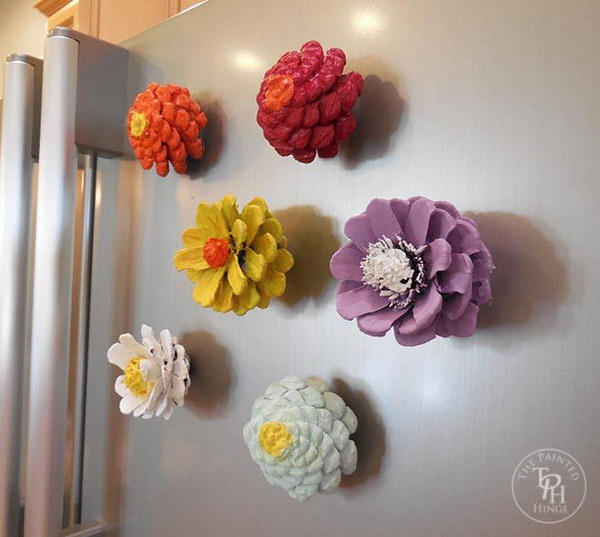 The pinecone flowers magnets are quite fun to make and they are sooo easy to paint! Get the tutorial via thepaintedhinge.
Pinecone Flowers Arrangement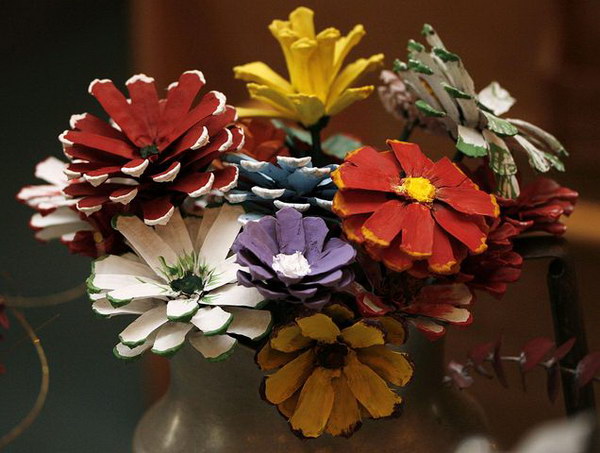 Painting pinecones to look like flowers. What a creative idea! Via mediaassets.
Pinecone Reindeer Ornaments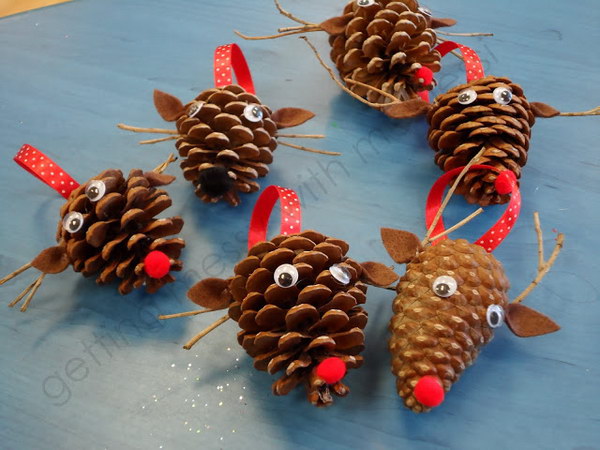 Pinecone reindeer ornaments are a fun Christmas nature craft! And a really easy and cute craft for kids to make! Get the tutorial via momspark.
Rustic Candle Holder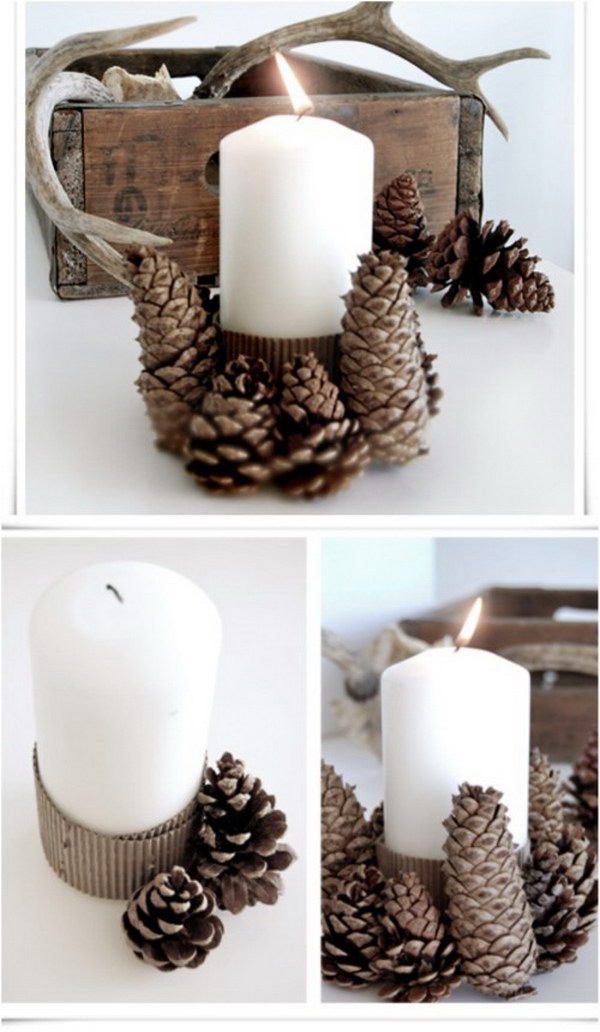 Get the tutorial via stylizimoblog.
Festive Red Pinecones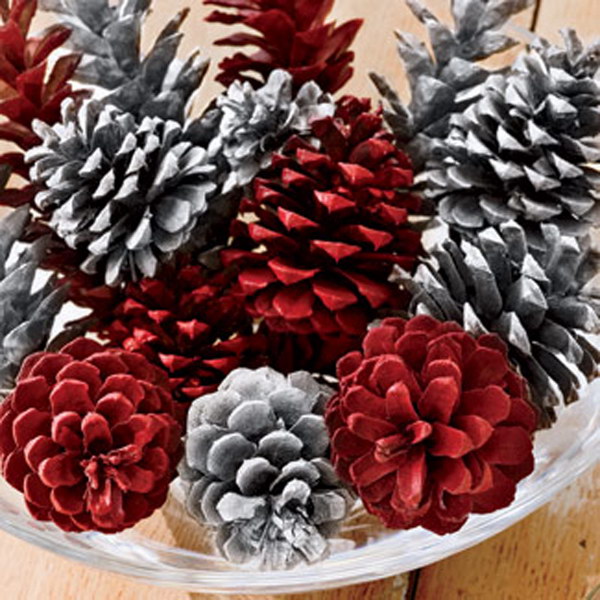 Red is the color traditionally associated with Christmas. Paint your pinecones festive red and use them for ornaments, swags, or centerpieces to easily get the cheerful look. Via goodhousekeeping.
Birch,Pine Cones and Book Pages Winter Woodland Tablescape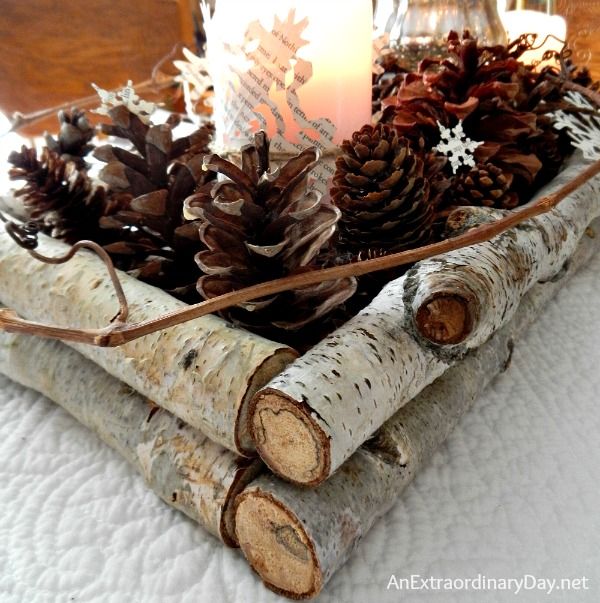 Get the instructions via anextraordinaryday.
DIY Lighted Pinecone Arrangement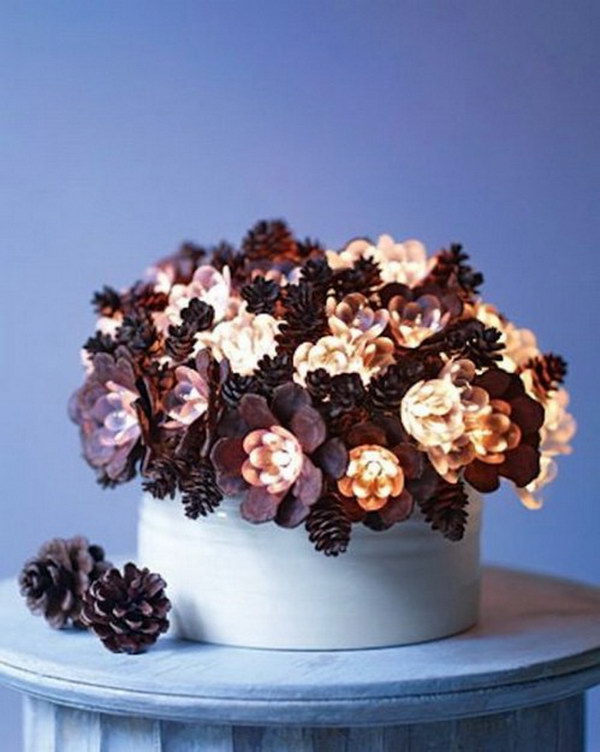 Get the tutorial via marthastewart.
Christmas Mailbox Decoration with Pinecones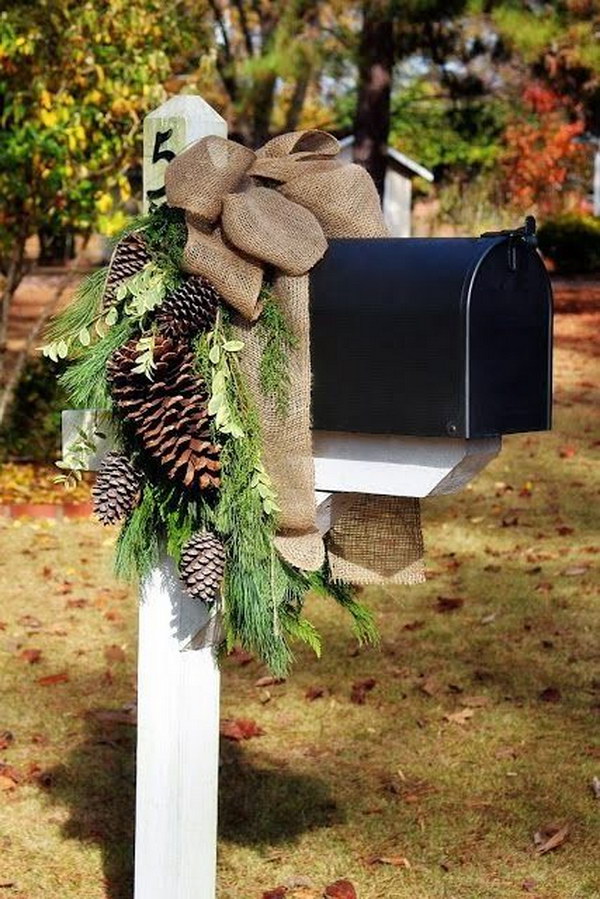 The abundance and beauty of pinecones make them ideal for Chrsitmas decorating. Placing some pinecones on your mailbox is a simple and beautiful way. Via pinterest.
Pinecone Chair Tiebacks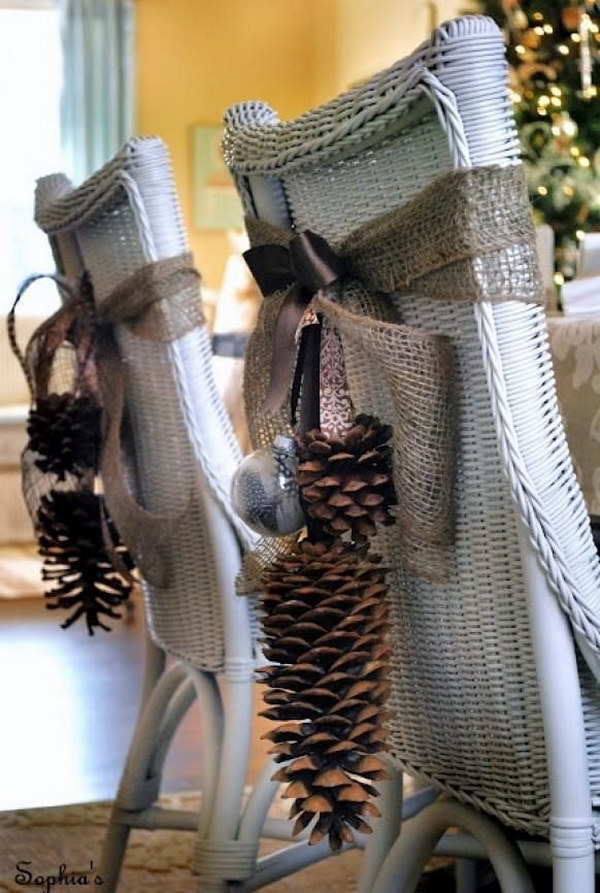 Dress up the chairs with pinecones, ornaments and burlap for the holidays. See more via sophiasdecor.
DIY Pottery Barn Inspired Snow and Glitter Pinecones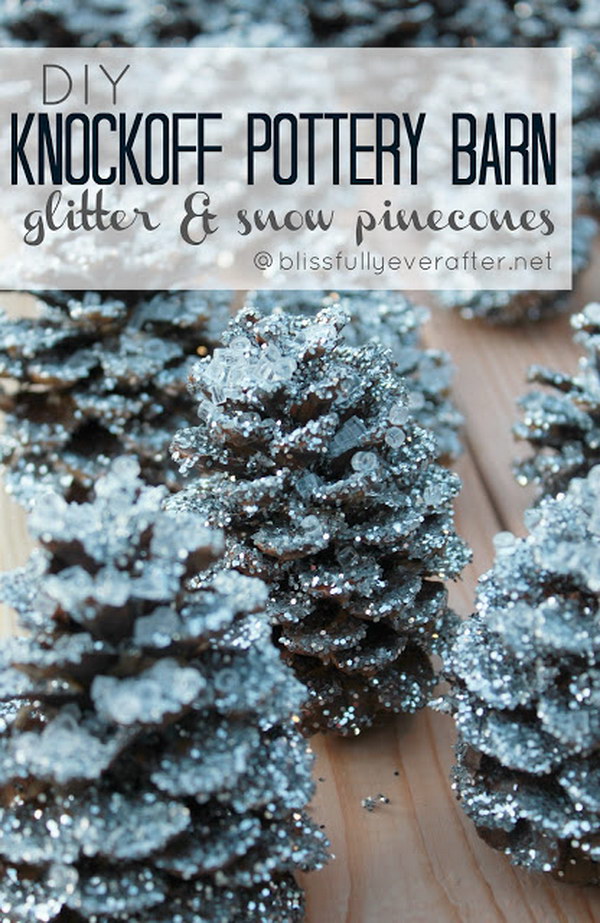 Make Pottery Barn inspired glitter and snow pinecones that will add some glam to your Christmas tree or holiday decor. Check out the easy tutorial via blissfullyeverafter.
Christmas Table Decorations Using Pinecones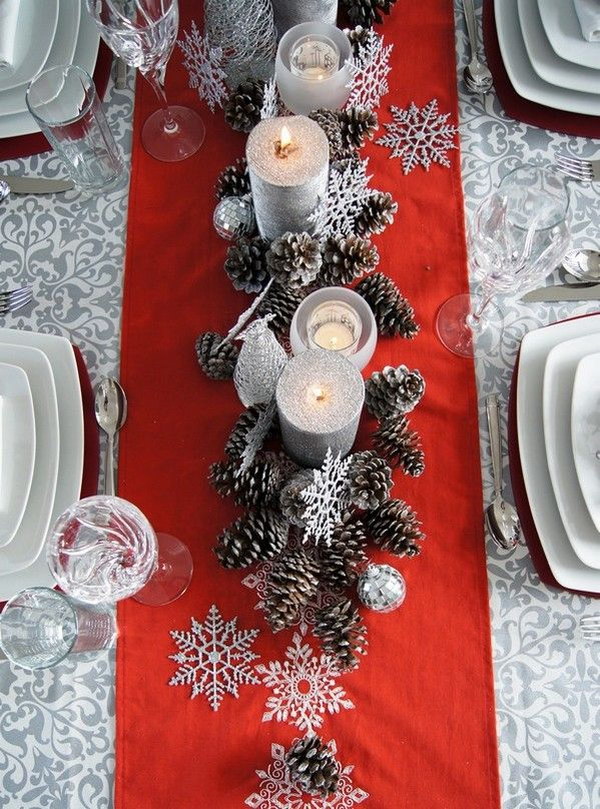 Love the simple woodsy touches—pinecones pared with snowflakes and silver candles instantly decorate a sill or table. Via tvoydesigner.
Burlap Pinecone Wreath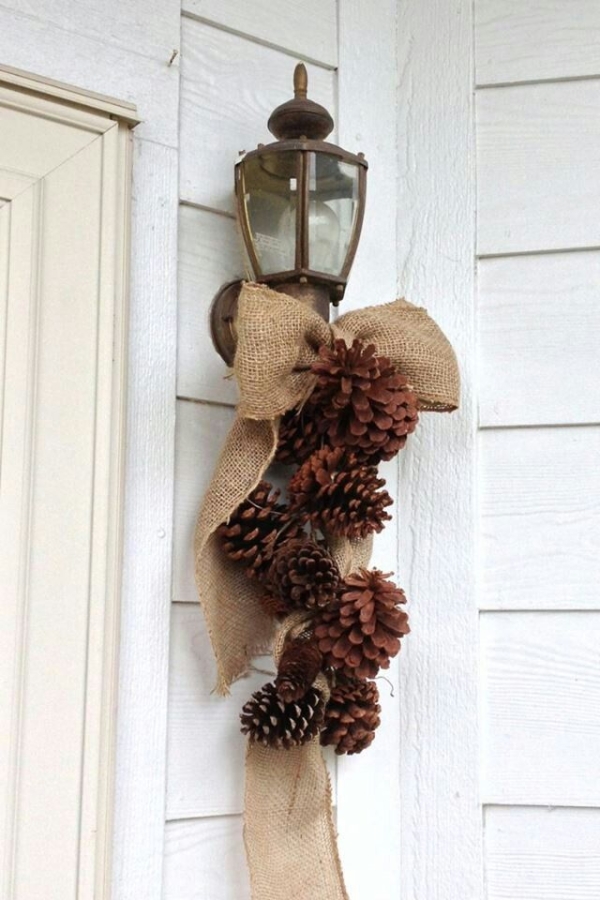 I love the rustic and elegant combination of the brown burlap and the textured pinecones. Via indulgy.
Silver and Gold Pinecones and Ornaments in Cylinders for Centerpiece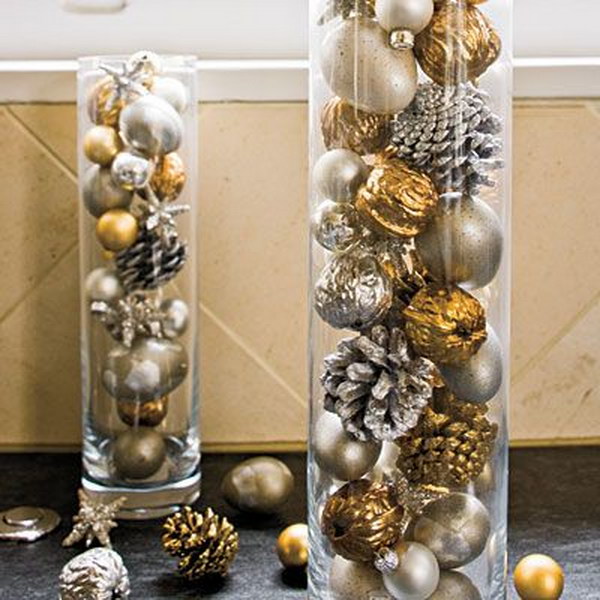 Easy to do for the Christmas and winter season. Fill two large cylinder vases with gold and silver balls and sprayed pinecones, talk about instant impact! Viasouthernliving.
Pinecone Christmas Tree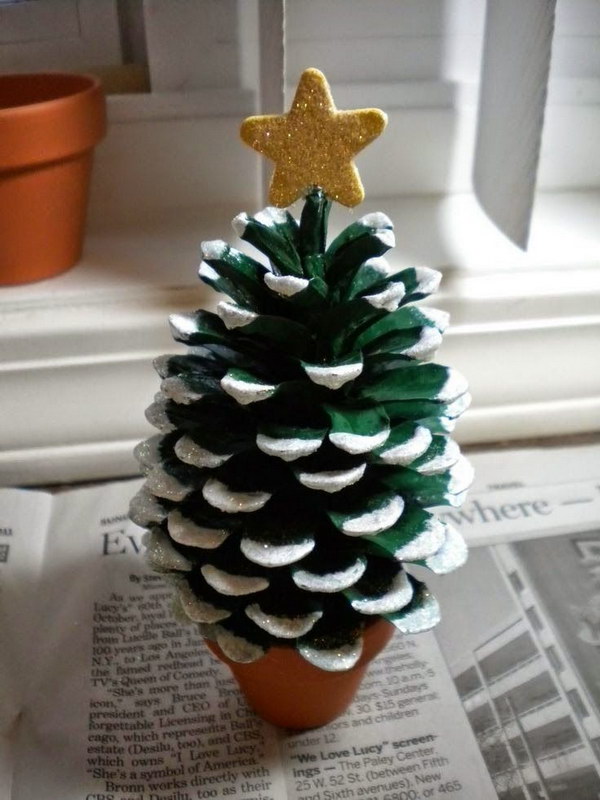 How to create a Christmas tree using pinecones for a nice centerpiece? Get the tutorial via amysdelights.
Blue and Silver Pinecones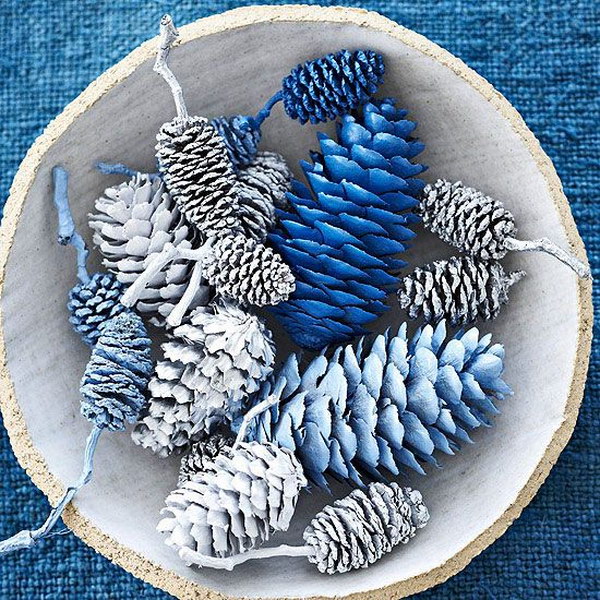 I love the painted pinecones that look so fancy and elegant. Paired with silver, the normally serene blue takes on an inviting, festive air that befits a celebration. Via bhg.
DIY Green and White Pinecone Swag Tutorial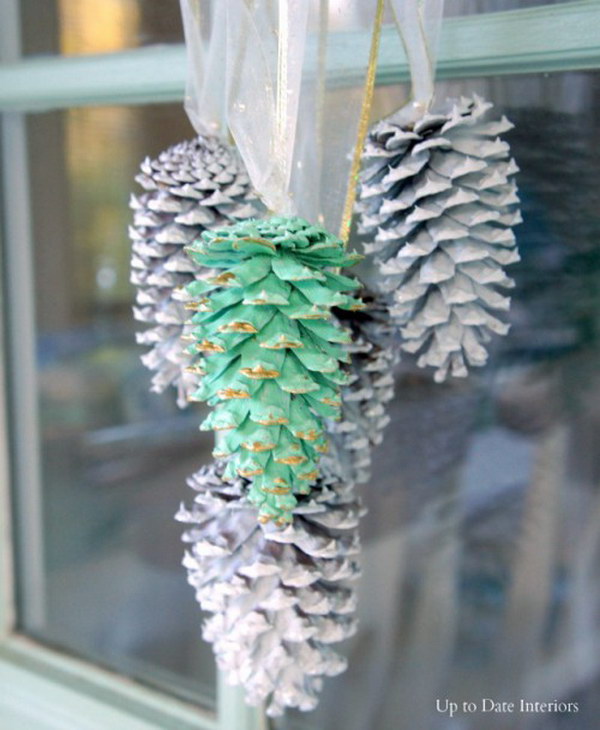 The little pop of green against the white pinecones is so beautiful. Get the tutorial via uptodateinteriors.
Christmas Table Centerpiece with Pinecones and Mercury Glass Balls
Get those easy to find stuffs ready for the big days with this rustic but elegant Christmas décor for your table tops. I love the vintage and sparkle combination of the textured pinecones and the mercury glass balls. Via 365greetings.
Elegant and Rustic Burlap Pinecone Garland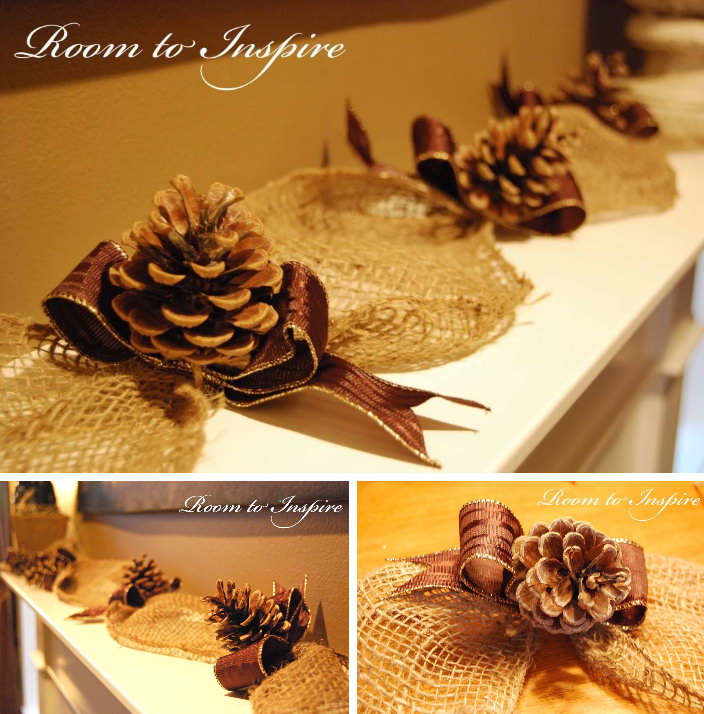 This gorgeous garland is a mix-and-match combination of your elegant and rustic decors. The subtle hint of gold gives it a little bit of sparkle. The brown burlap and textured pinecones add a little bit more of the vintage look. Get the tutorial via roomtoinspire.
DIY Pinecone Reindeer Trophy Head Tutorial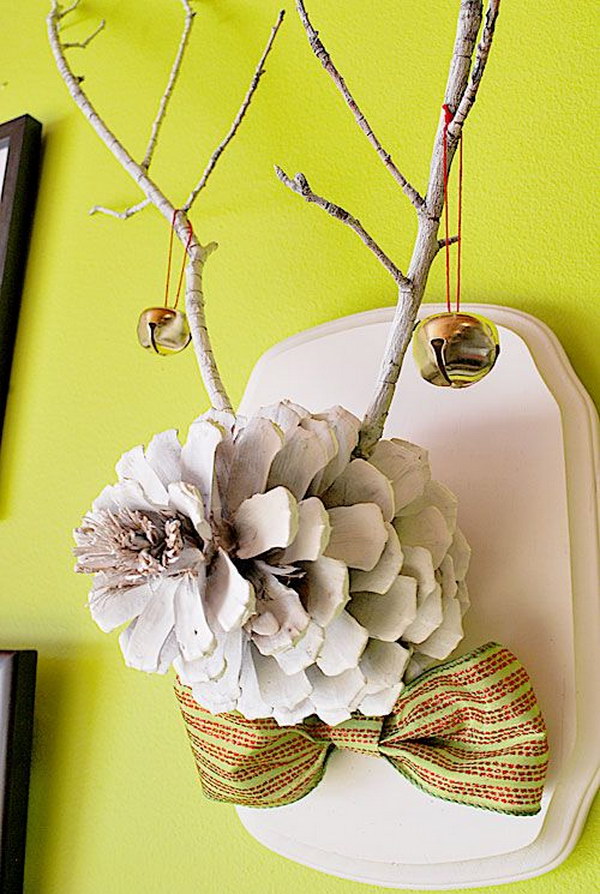 Get the tutorial via alamodestuffblog.
DIY Pinecone Topiary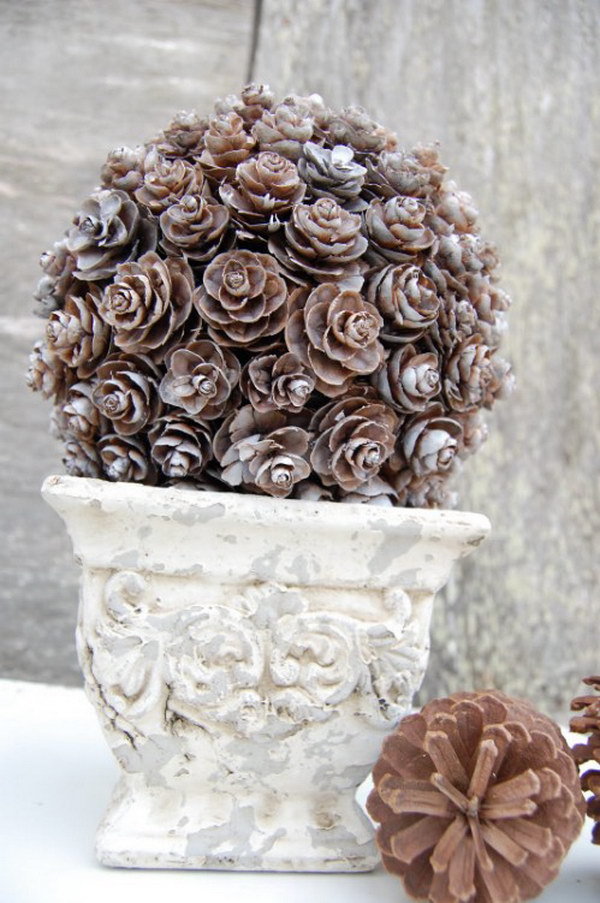 Make this beautiful topiary for winter decoration. Would look great outside in the garden or door entrance. Get the tutorial via somewhatsimple.
Pinecone Mirror and Candles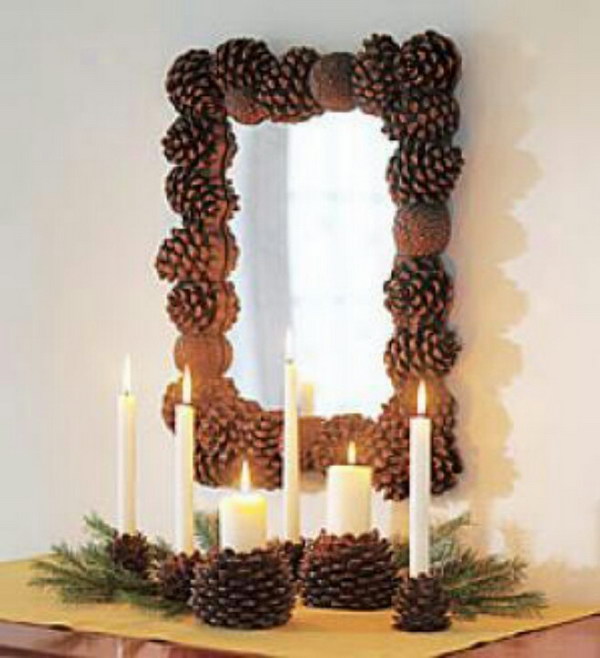 You can make a pinecone frame mirror and pinecone candles to pare with for the holiday mantel. Learn how to make the pinecone mirror via tracys.