Wood crates can be found in many home. They are perfect for making of all kinds of furniture. Take a look at these DIY wood crate projects, which are so versatile, functional and decorative for your house and yard. From stylish storage ottoman or crate shelving system to wine crates shoe racks on the wall or crate nightstand, there are so many things you can make out of crates.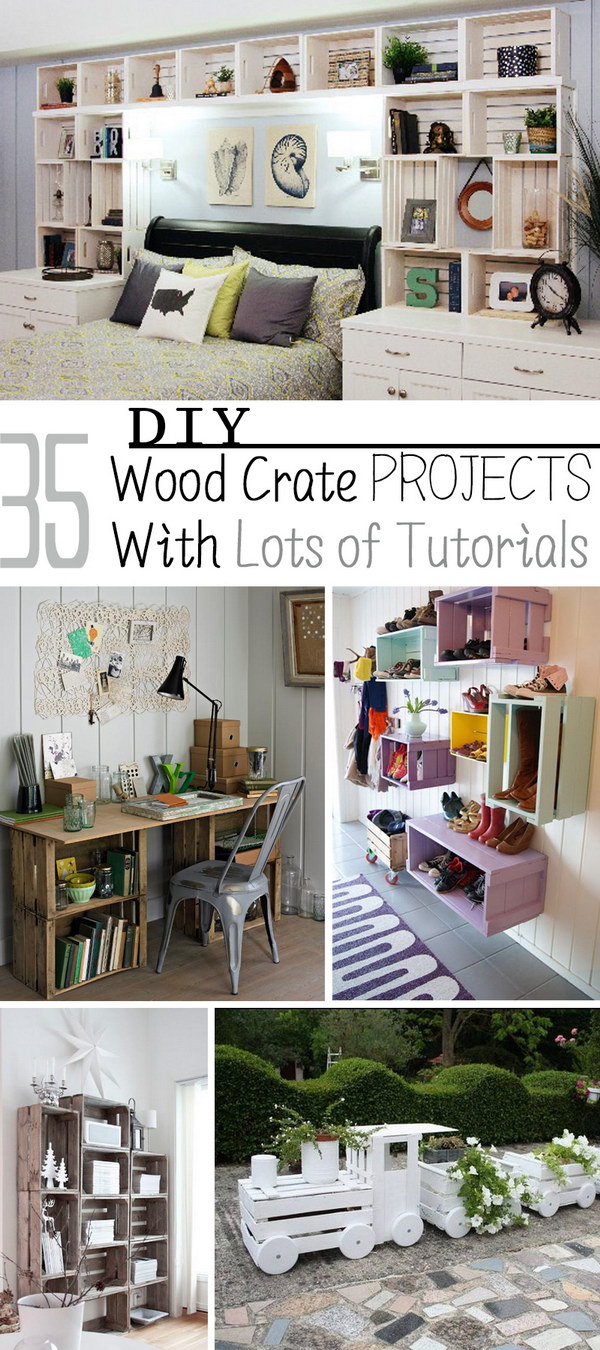 DIY Crate Storage Coffee Table and Stools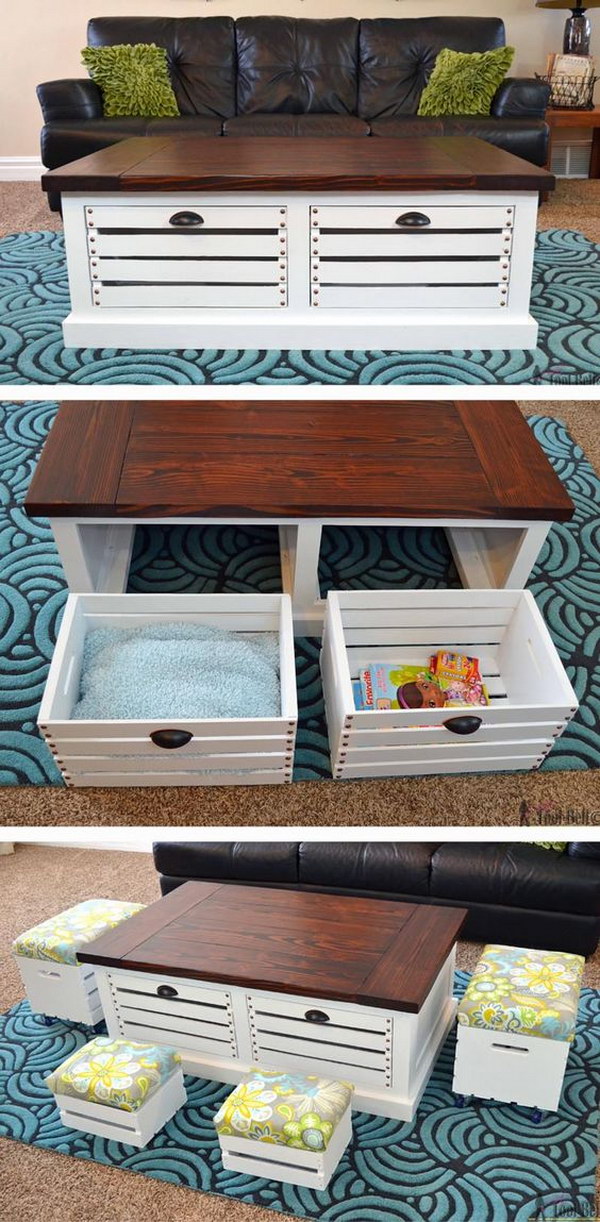 This crate coffee table is beautiful and just looks stylish and chic. It's great for storage and makes an excellent addition to your living area. Get the tutorial via hertoolbelt.
Turn Ordinary Wooden Crates Into Cool Bathroom Storage On Wheels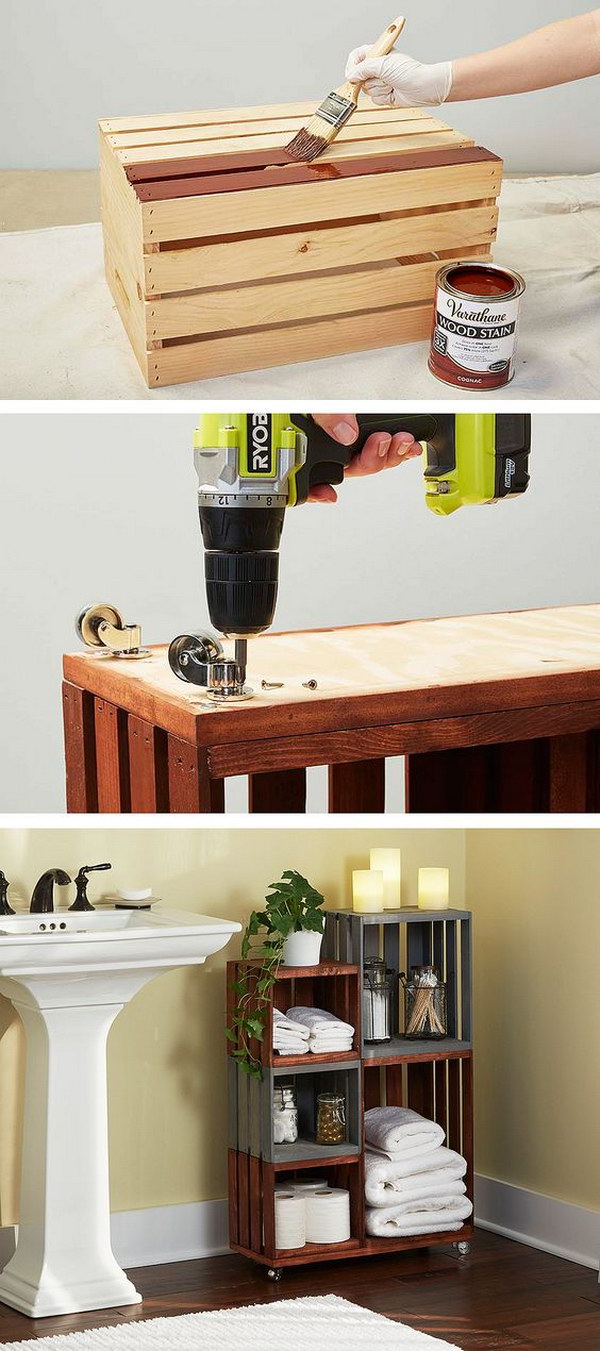 Get the tutorial via homedepot.
DIY Vintage Crate Console Table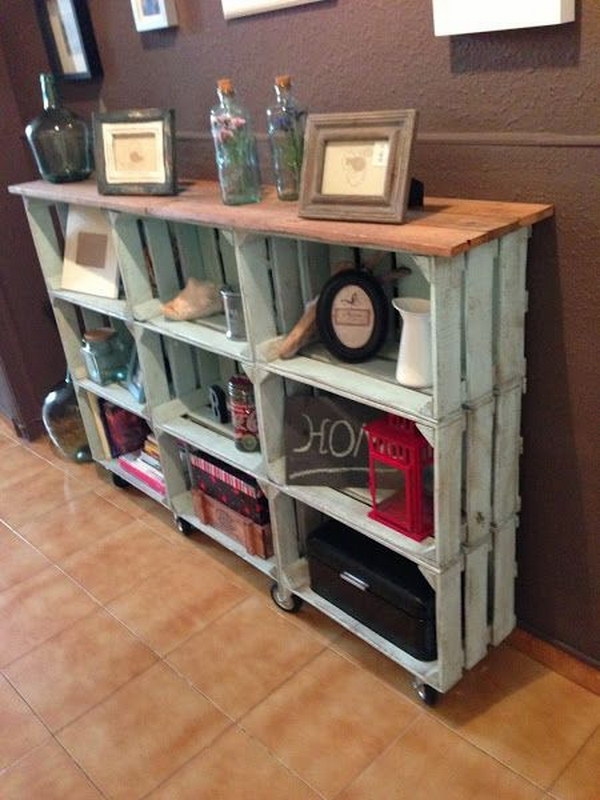 This DIY vintage crate console table creates storage and display space in a hallway or in the family room. Get the tutorial via decorandoyrenovando.
DIY Crate Hot Wheels Storage for Kids

Your boy's cars get their own port in this easy storage solution made with a wooden crate and mailing tubes. Get the tutorial via frugalfun4boys.
DIY Wooden Crate Bathroom Storage Tutorial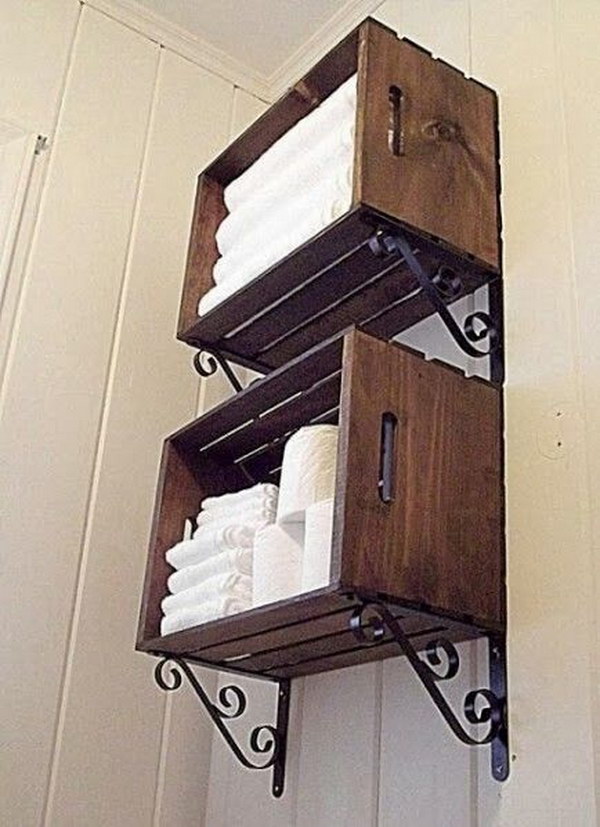 Check out the step by step tutorial on how to make this rustic bathroom storage via morningbymorningproductions.
Beautiful Crate Planter Tutorial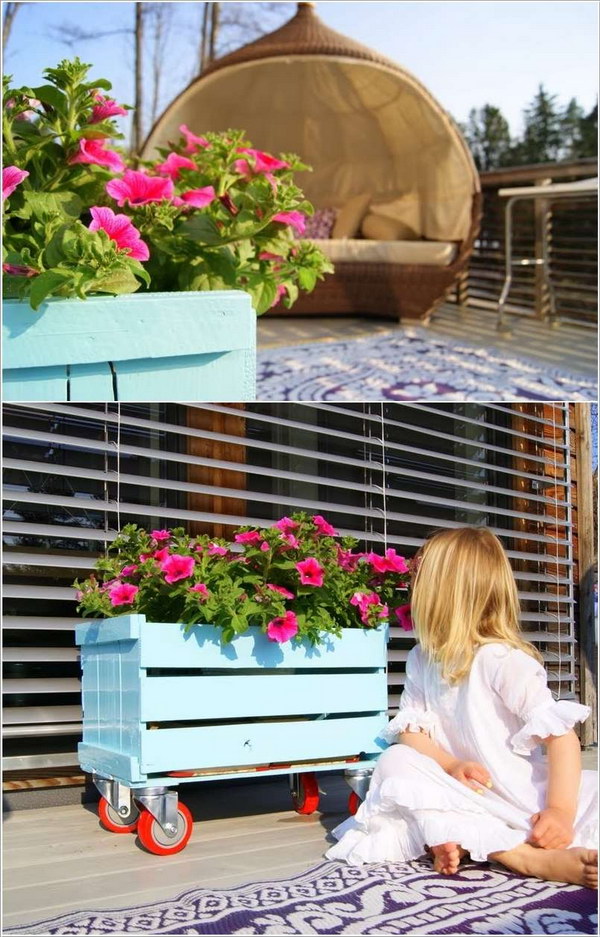 Make a DIY planter from a wooden crate. See more details via theverden.
DIY Stylish Storage Ottoman

This DIY storage ottoman is a convenient place to rest your feet or seat an extra guest. It also comes in handy to store sofa throws. Get the tutorial via monmakesthings.
Easy to Make Crate Planter Train Tutorial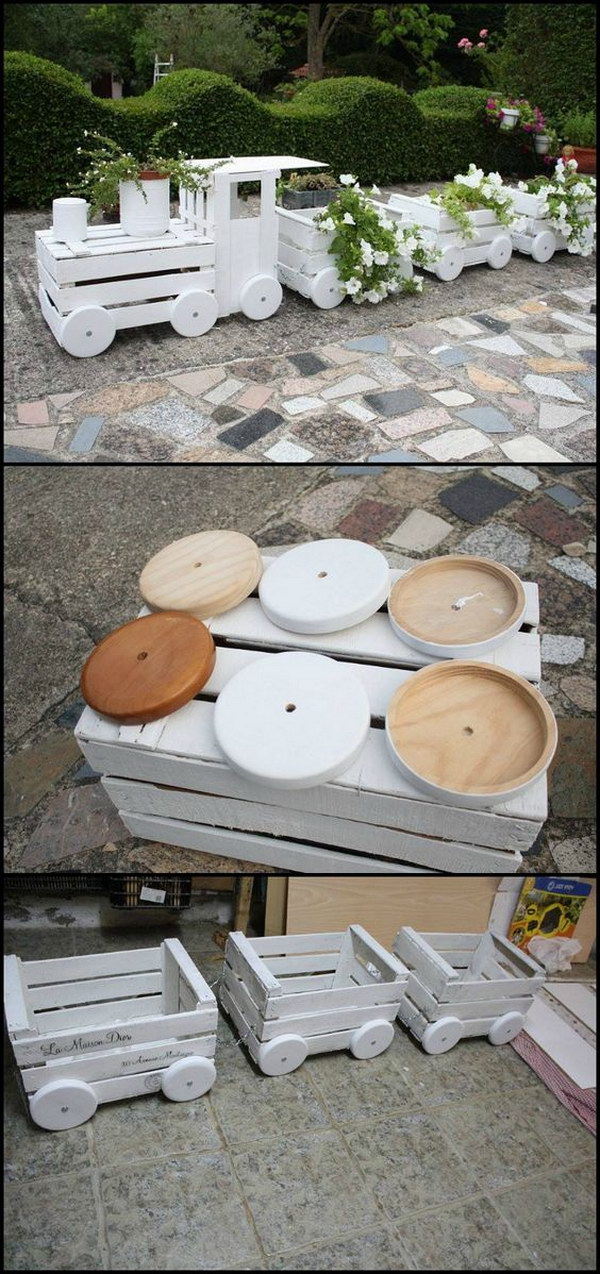 What a fun garden idea! This train planter is easy to make and is just made out of old crates! Check out the tutorial on how to make this via forobricolaje.
DIY Crates Shelving System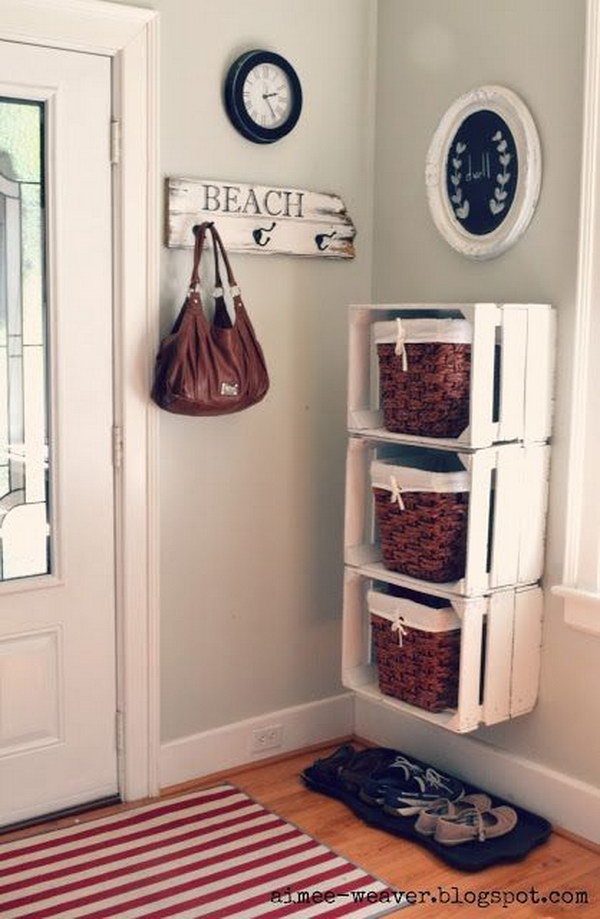 This creative crates shelving system not only provides perfect storage solution but also makes big impact in your home. See more via lifemadelovely-blog.
Wine Crates Shoe Racks on the Wall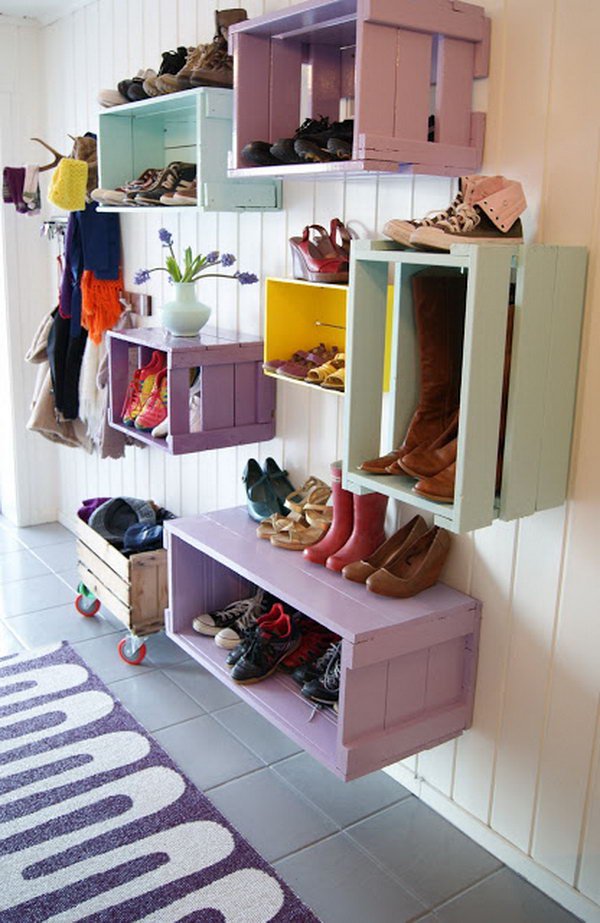 Paint crates and hang on the wall – a colour for each family member. These shoe racks are so amazing and functional. Via theverden.
Unique Crate Nightstand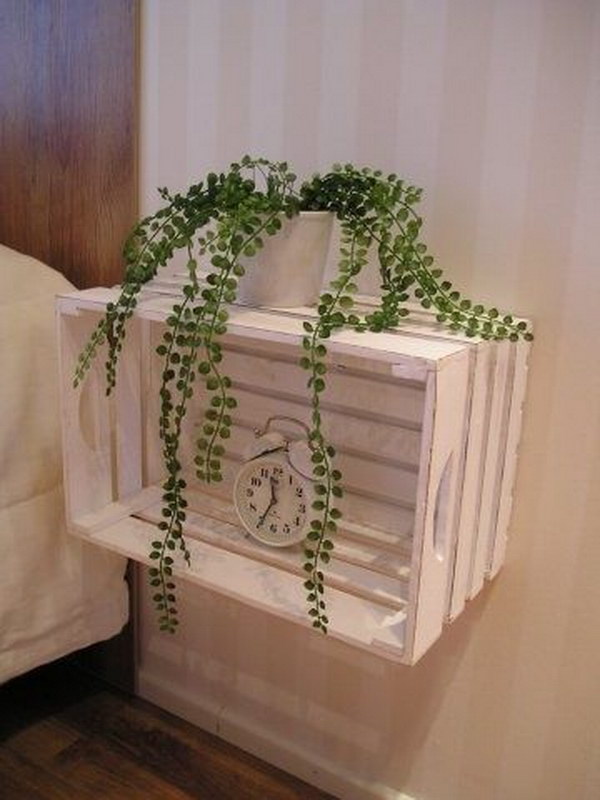 If your are on the looking for a simple but unique way to stretch your design budget and store bedside essentials. You can create this simple reclaimed crate nightstand for your bedroom. Via waadiy.
DIY Wood Crate Wine Rack Tutorial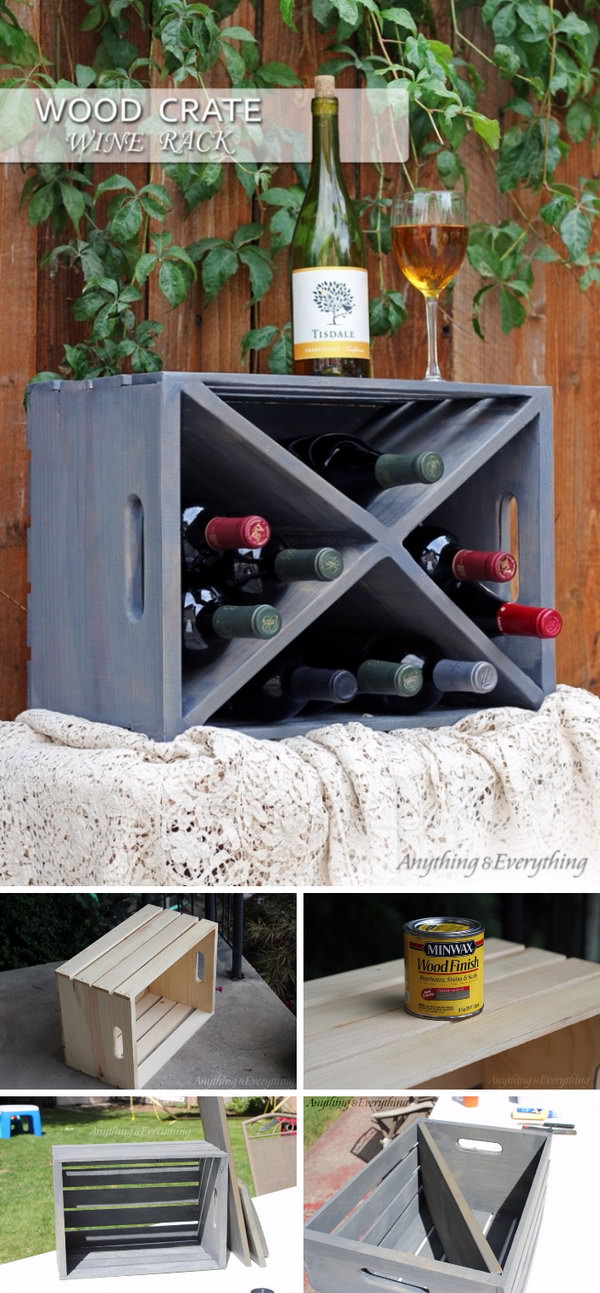 This is so simple but pretty. Get the step by step tutorial via myanythingandeverything.
DIY Distressed Nautical Crate Tutorial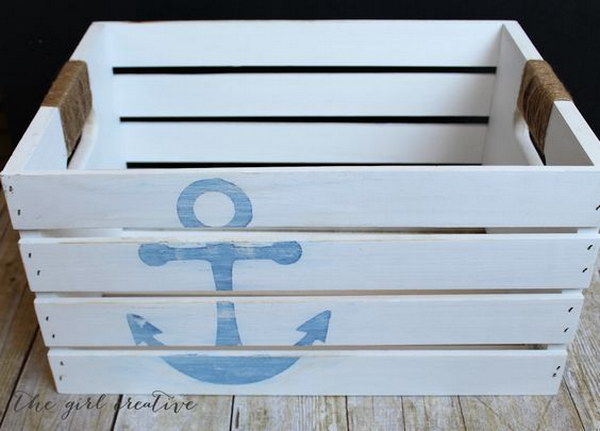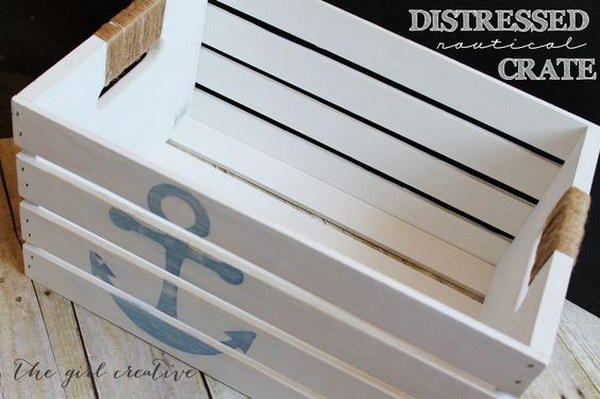 Make this cute nautical crate with a few supplies and little bit of time! Get the tutorial via thegirlcreative.
DIY Wooden Crate Bench with Storage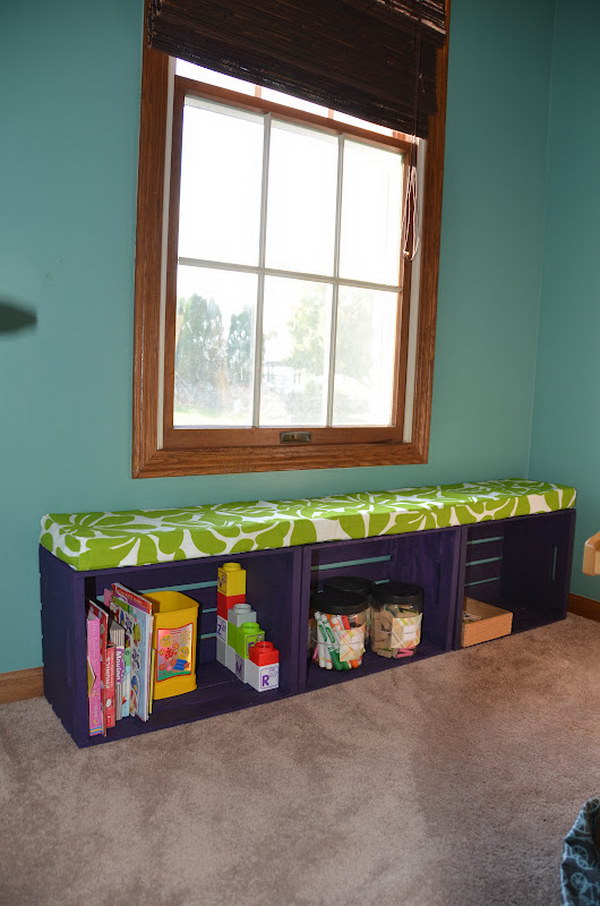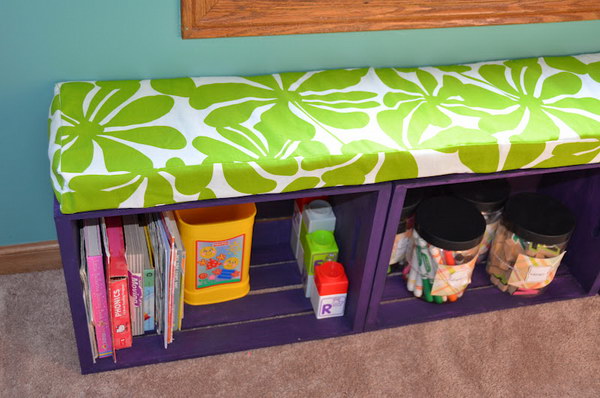 Check out the step by step tutorial for this cute crate bench via fullofinsanity.
DIY Crate Bench for Front Porch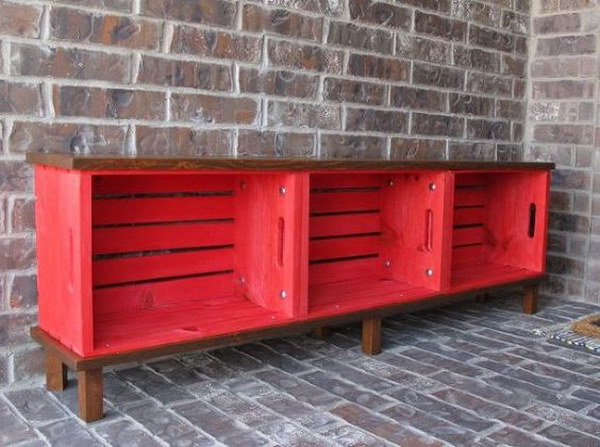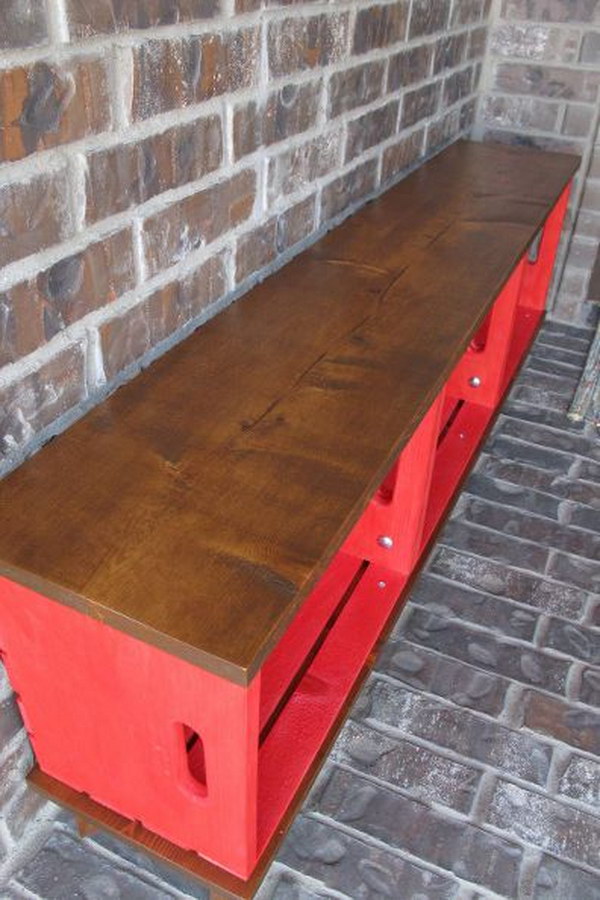 This DIY crate bench allows you to perch while put on or take off your shoes. Get the tutorial via operationhomeblog.
DIY Crate Desk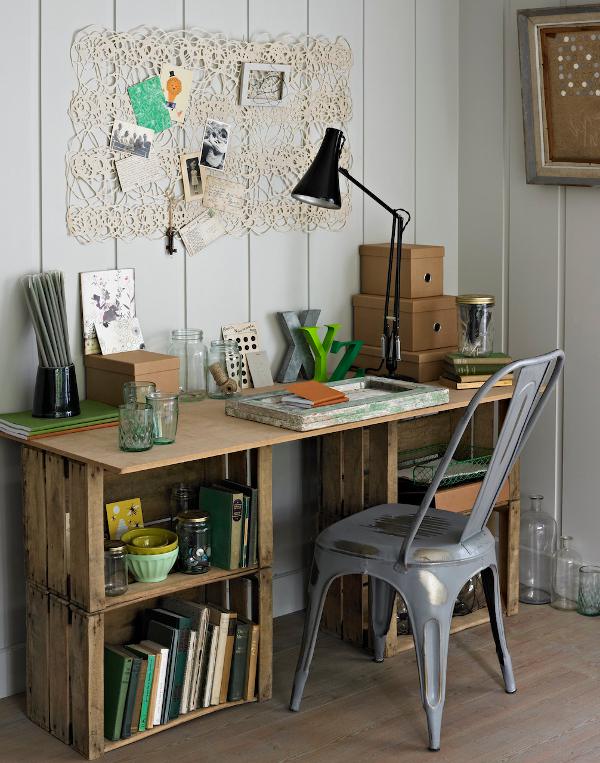 Stacked wooden crates can be put to great use as the base of a desk. You just need to stack and secure a few crates to your desired height, place your writing surface atop and you have a perfect desk. Via desiretoinspire.
DIY Crate Side Table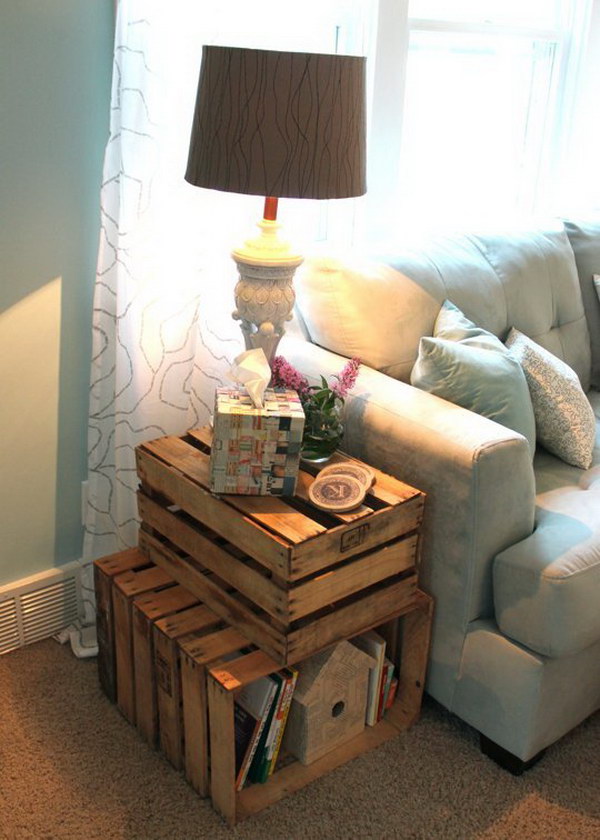 With the beautiful wood and ample storage space, this crate side table is that winning combination of gorgeous and functional. Via apartmenttherapy.
Stacked Crate Bookshelves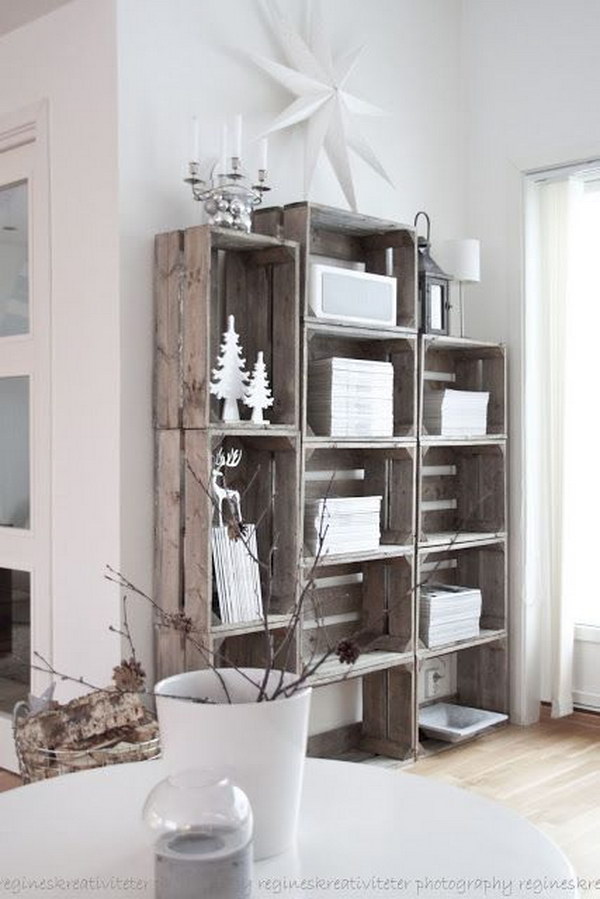 Decorative wooden crates forming a cabinet! I just love the vibe! Via interiorsoriginals.
Kitchen Recycled Crates Drawers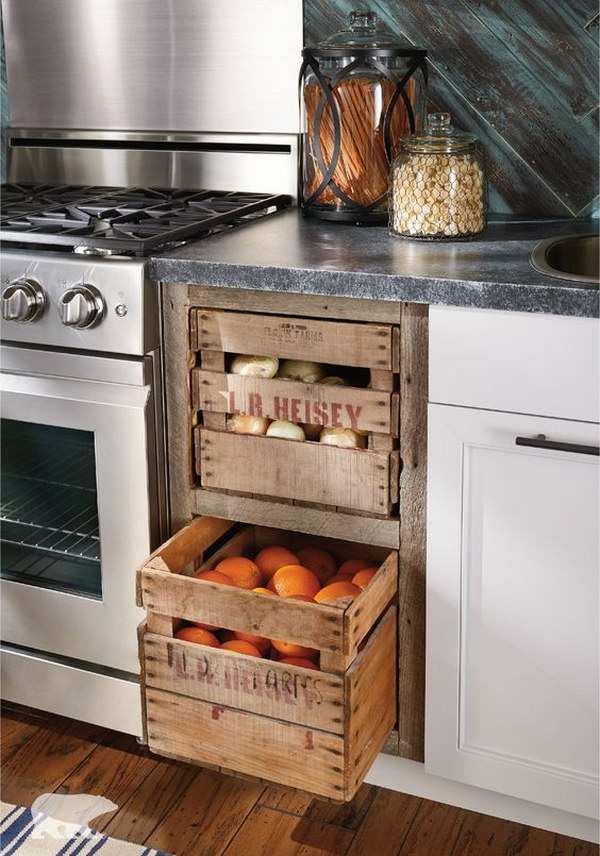 Add rustic and vintage look to your kitchen using recycled crates as drawers. They are perfect place for storing your fruits and bread in. Via behr.
DIY Rustic Crate Nightstand for $15 or Less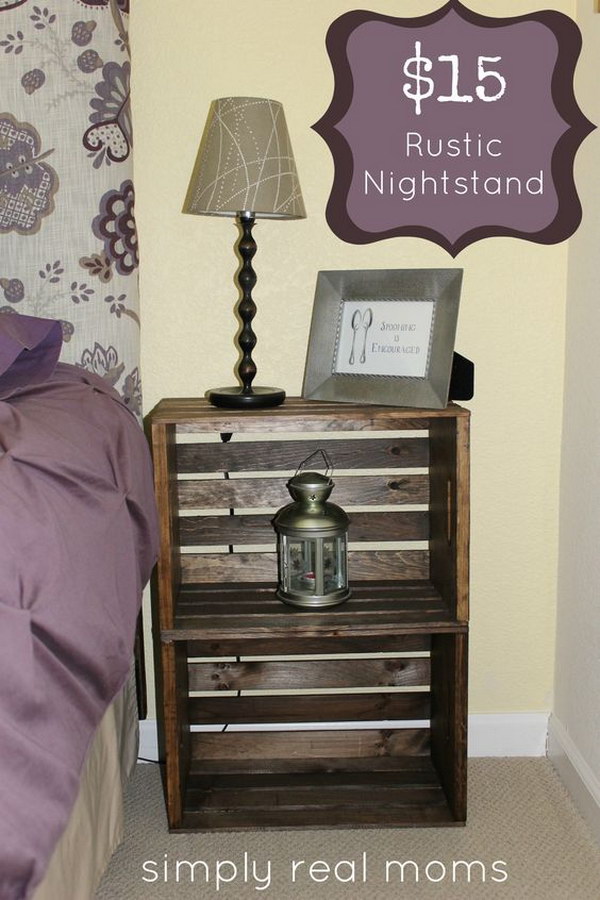 Get the tutorial via simplyrealstyle.
Bohemian Dressing Room with DIY Crate Shelves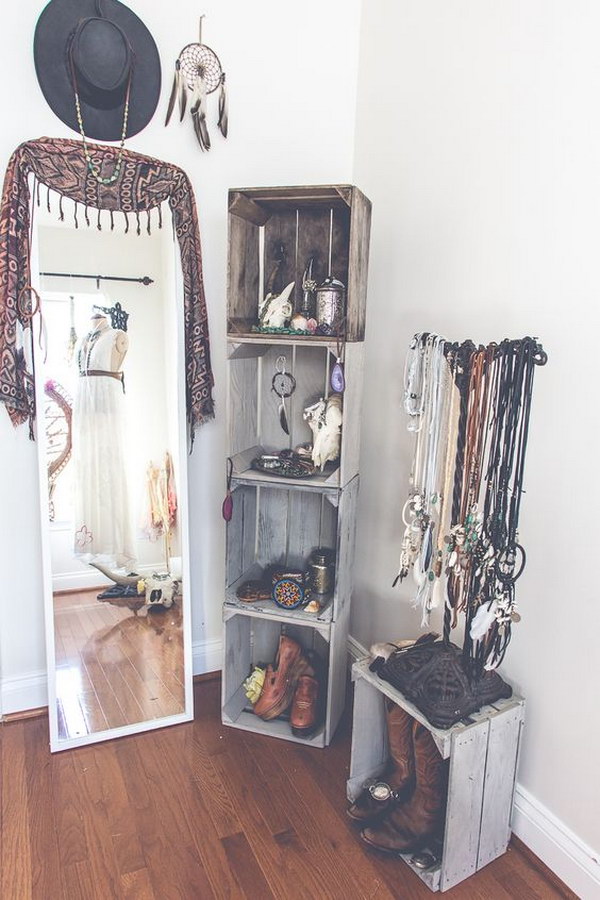 Turn a few plain wooden crates into fun and unique Boho Chic shleves! Via soulmakes.
DIY Create Bookshelf
Unfinished wooden crates can easily be made into a charming rustic bookshelf. Check out the detailed tutorial on how to make your own via taramichelleinteriors.
DIY Colorful Kids Crate Bookshelf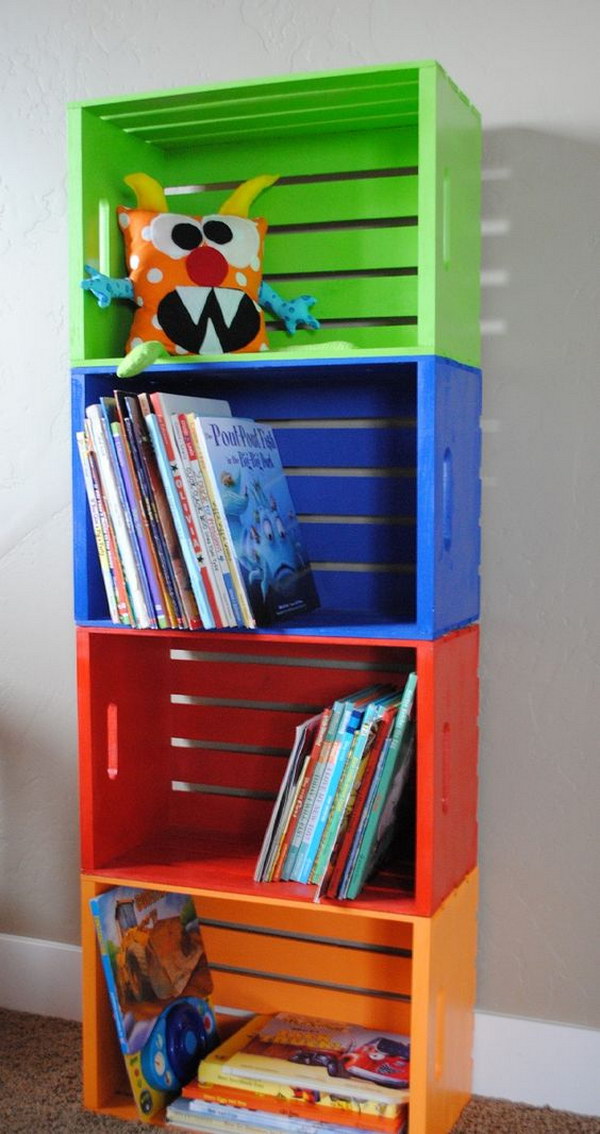 Make a fun colorful bookshelf from crates that easily brighten and organize your kids' room. Get the tutorial via crazylittleprojects.
DIY Storage Ottoman

This little thing looks great and makes handy storage for your living room. See the tutorial via homedepot.
DIY Crate and Pipe Industrial Table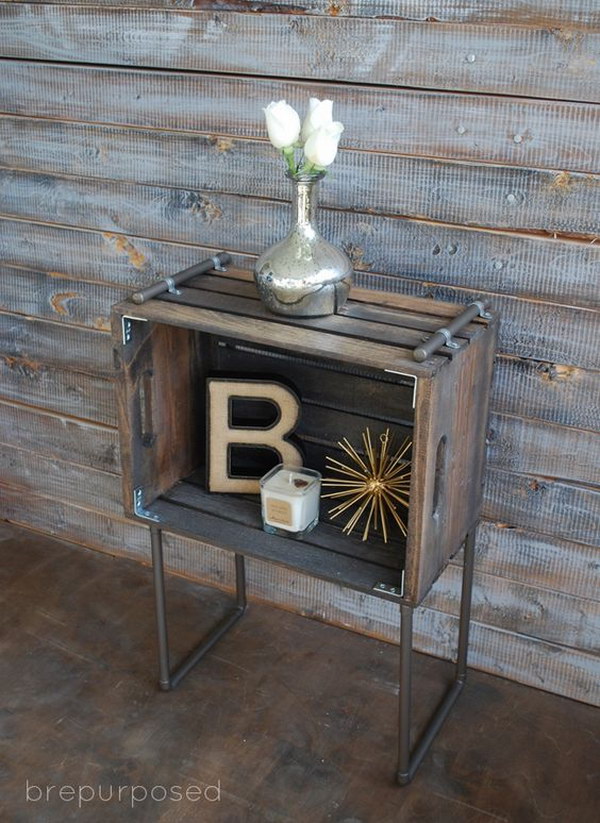 Cool pipes team with crate to create industrial charm! Check out the step by step tutorial via brepurposed.
DIY Crate Book Shelves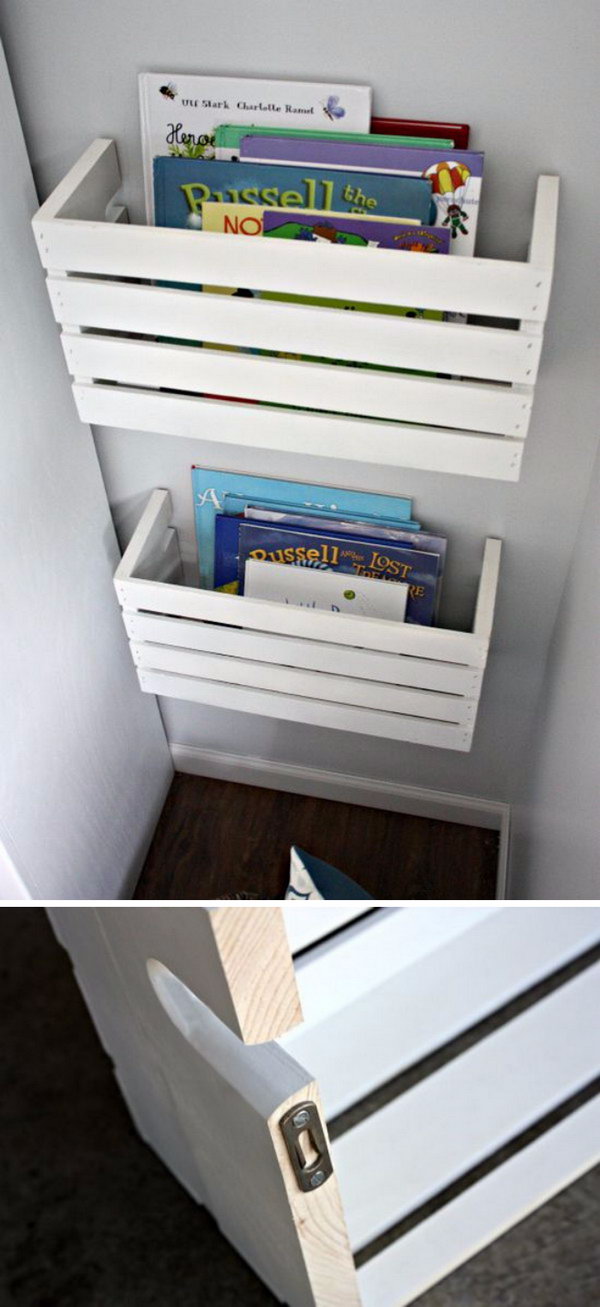 Hung within kids' reach, these white painted wooden crates ensure that little ones can readily access and return the books. Get the tutorial via iheartorganizing.
DIY Wine Crate Coffee Table

This Crate Coffee Table project was cheap, fun, and easy to make. And you will love the beautiful wood and ample storage space. Get the tutorial via diy-vintage-chic.
DIY Pallet Bed with Crates under That Can Pull out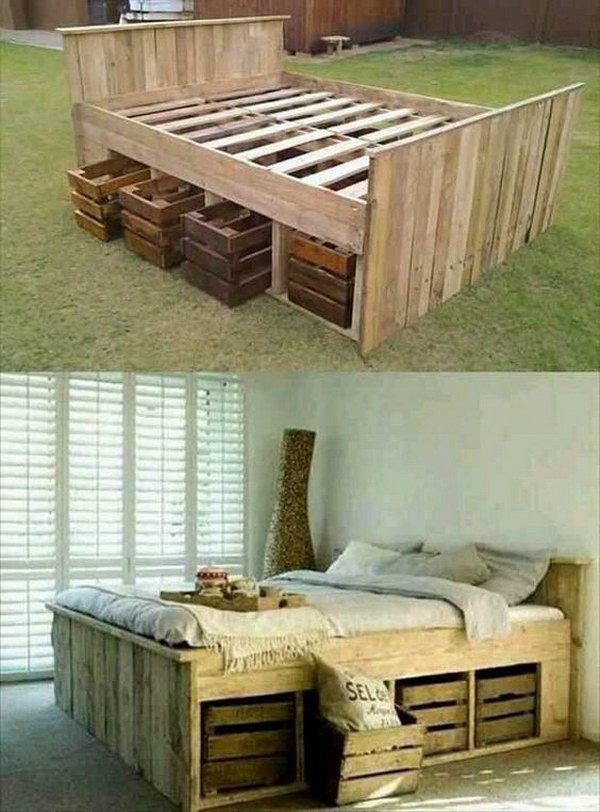 Get the tutorial via 99pallets.
DIY Crate Built-In Shelving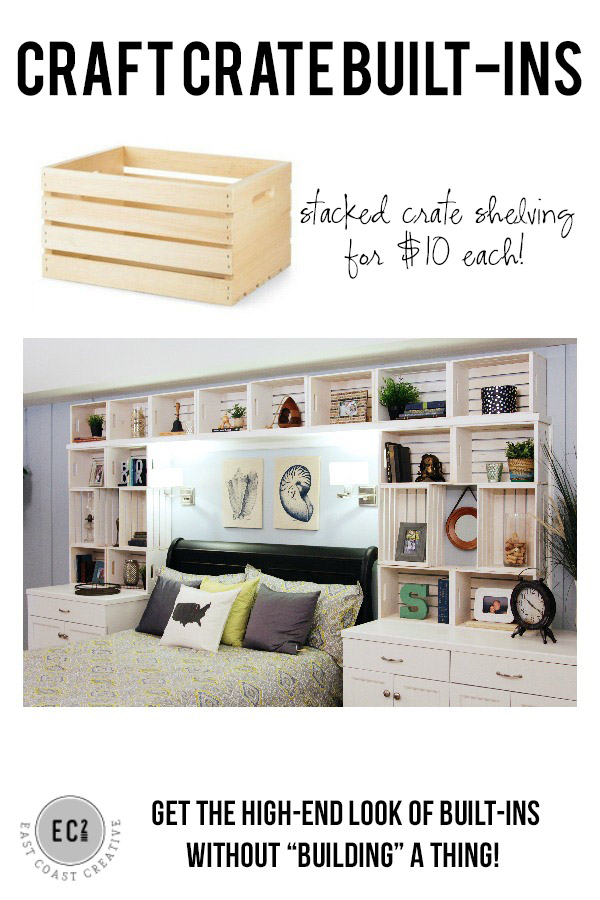 Stacked crates on top of dressers creates a gorgeous storage solution that looks built-in. Check out the full tutorial on how to make this via eastcoastcreativeblog.
DIY Lemonade Stand Made with Crates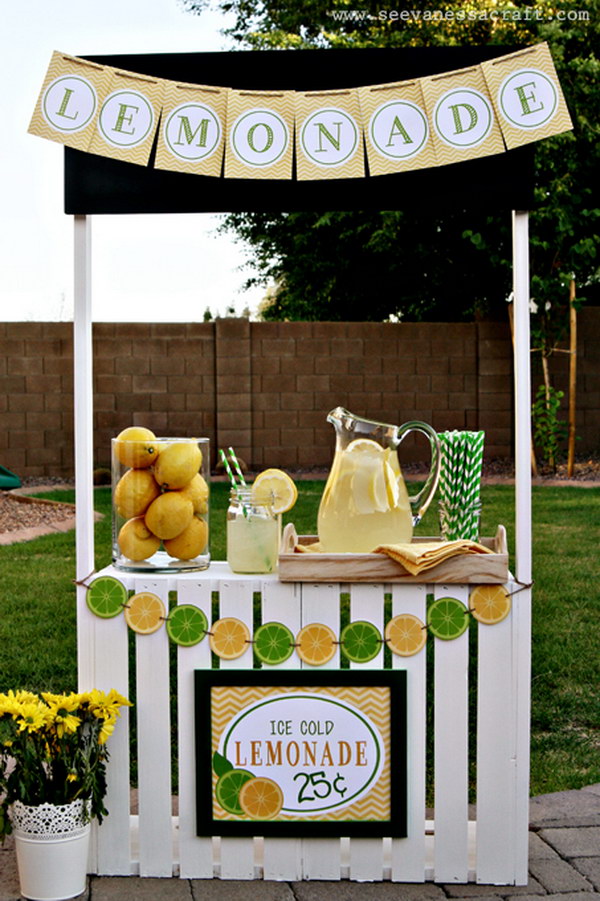 Introduce your kids to the exciting world of retail with this bright colour lemonade stand. Get the tutorial via seevanessacraft.
DIY Thomas the Train Storage Crate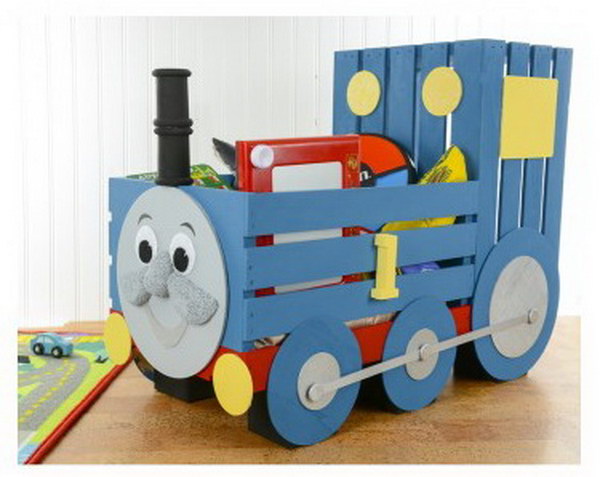 See how this cute Thomas the Train Storage Crate all started with two plain wooden crates. Get the tutorial via acmoore.
DIY Raised Dog Feeder from Old Crate
Via ecocooldog.