With Christmas just around the corner, are you ready for your Christmas decor? You don't have to spend extra money on some expensive and fancy decors when thinking creatively. You can make your own Christmas ornaments with even the simplest materials around your house, like mason jar lids, pieces of fabric, wood slices and more. Today in this post, we have rounded up tons of personalized Christmas ornaments that you can easily make at home with your family during this holiday season. Get started now!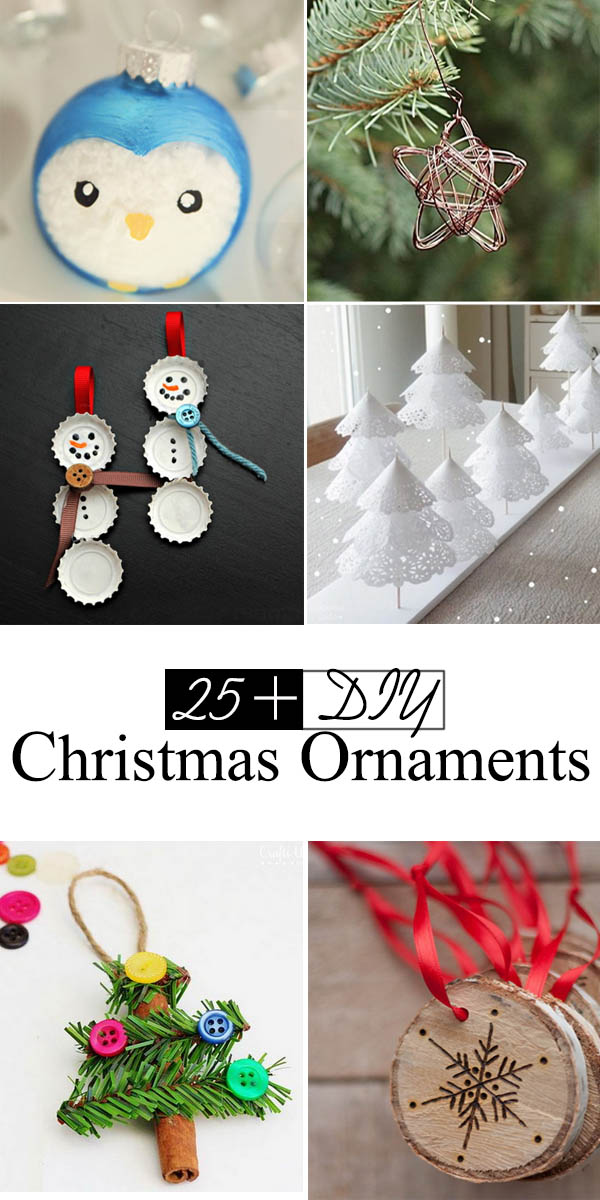 Cute Painted Penguin Ornament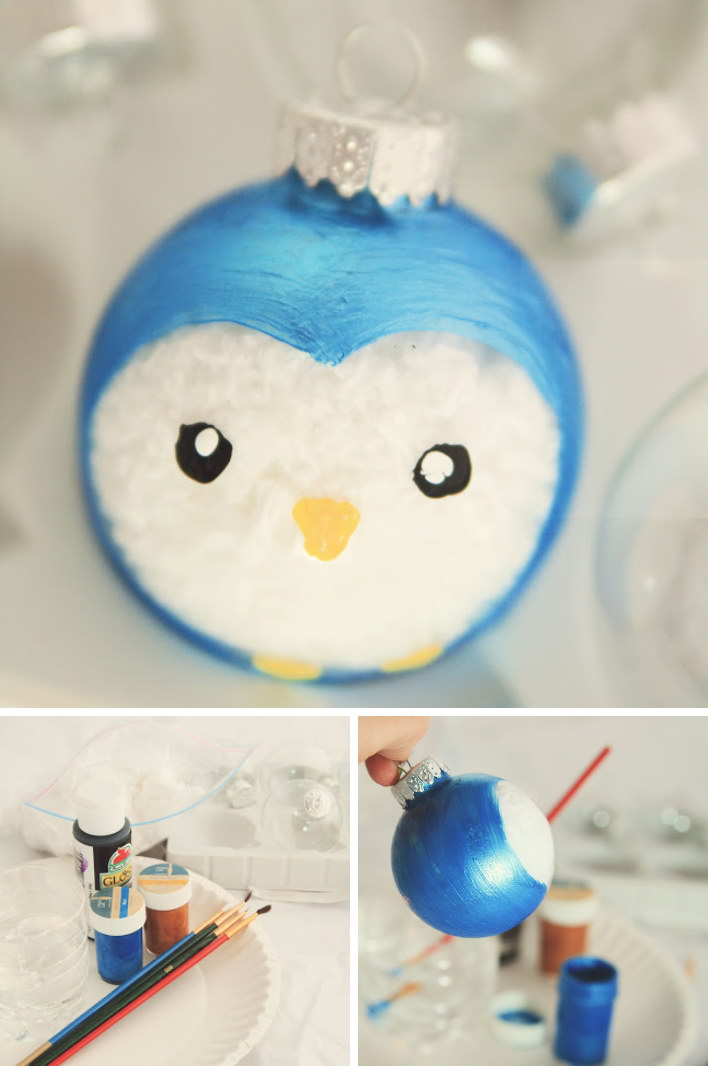 Tutorial via littlegrayfox.
Minion Christmas Ornaments

Combine your favorite characters with the Christmas crafts! Great Christmas crafts to make with kids! Get the tutorial via Crazy Little Projects.
Christmas List Ornament

Tutorial via honey bear lane.
Mini Gumball Machine Christmas Ornament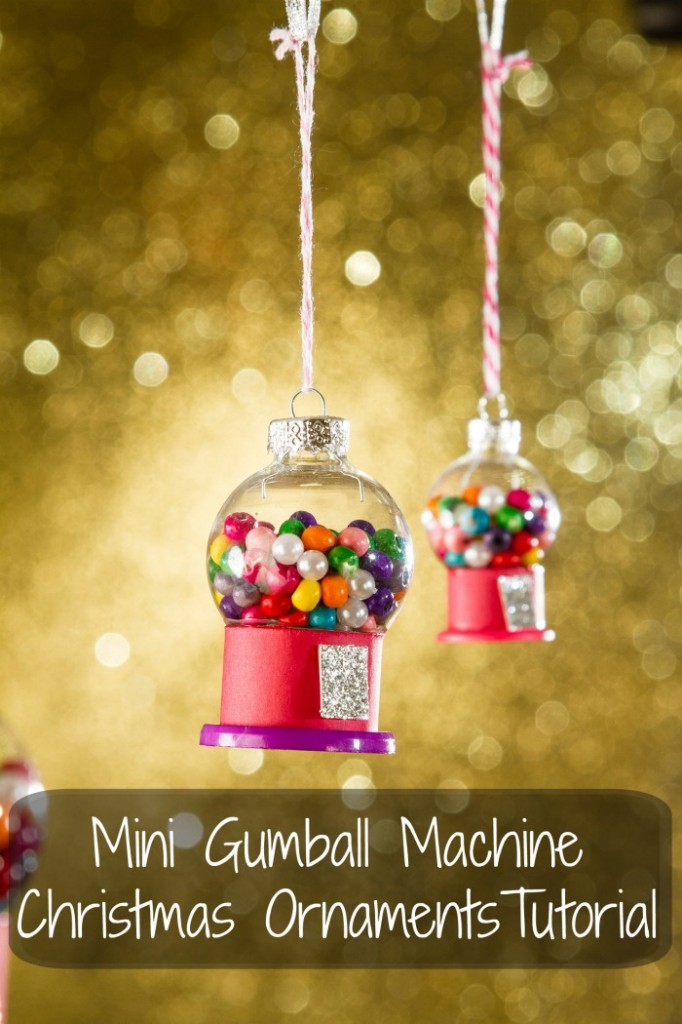 Super cute and adorable on your Christmas tree! Great craft to make with your kids.
Tutorial via gretas day.
Glitter Owl Christmas Ornament

Look so cute and adorable on your Christmas tree! Want to make one by yourself? Check out the tutorial via Just Crafty Enough.
Handmade Star Wire Ornament

First you should make a star template with 6 nails and a drill. This may be the most difficult part of the project. See the full tutorial via Alyssa And Carla.
Homemade Paper Christmas Tree

Get started to make these adorable paper Christmas trees with the tutorial via Two Jediy.
Homemade Christmas Paper Angels

Another easy homemade Christmas ornament! Picture from Pinterest.
Paper Punch Snowflake Christmas Ornament

Tutorial via The Ornament Girl.
Bottle Cap Snowman Ornaments

Simply paint old bottle caps white, glue to a single strand of ribbon, and embellish. Easy, cute, and super cheap to make with fun for kids. Tutorial via One Artsy Mama.
Felt & Pinecone Owl Ornaments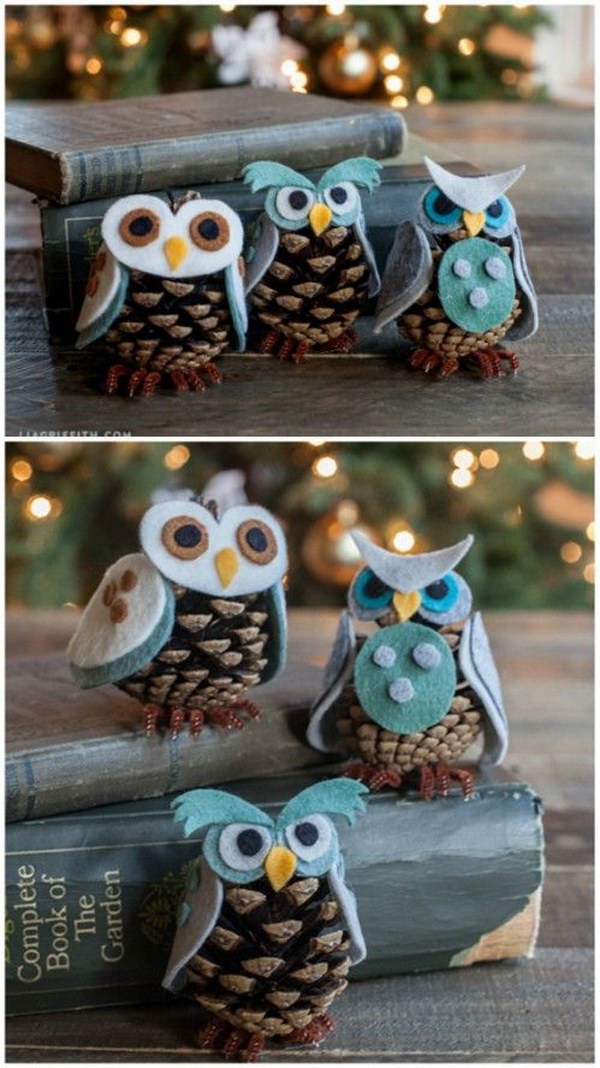 These felt and pinecone owls look so cute and adorable! Use pinecones, felt cutouts and glue gun to create some for this Christmas decor. Tutorial via LiaGriffith.
DIY Fingerprint Snowman Ornament

Another easy and fun handmade craft for Christmas! Check out the tutorial via buzzfeed.
Mason Jar Lid Tree Ornaments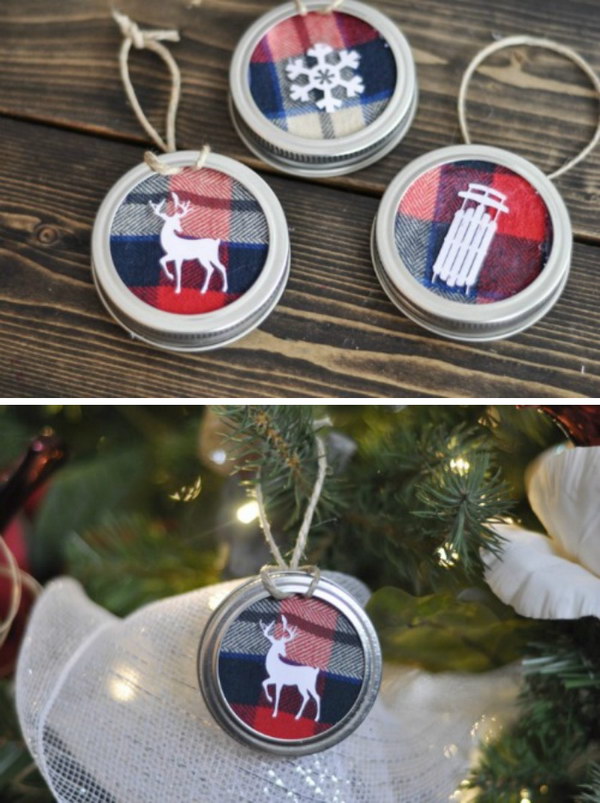 If you have some mason jar lids, a glue gun and some fabric scraps, you can make these ornaments. Tutorial via clean and scentsible.
DIY Glitter Christmas Ornaments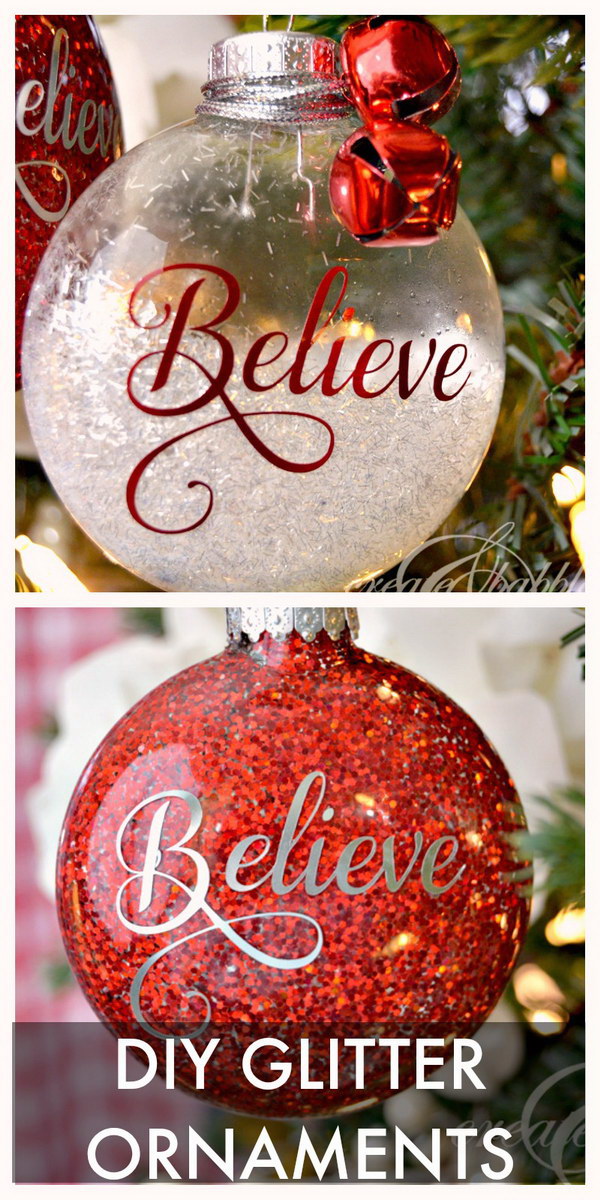 Get started to make these glitter Christmas ornaments for your new treewith the step-by-step tutorial via Create and Babble.
Etched Snowflake Ornaments in Birch

Easy and fun to make! You could cover your tree with them. Or hang them on doorknobs around the house this Christmas. See the tutorial via Design Mom.
Painted Ornaments from Plain Bulbs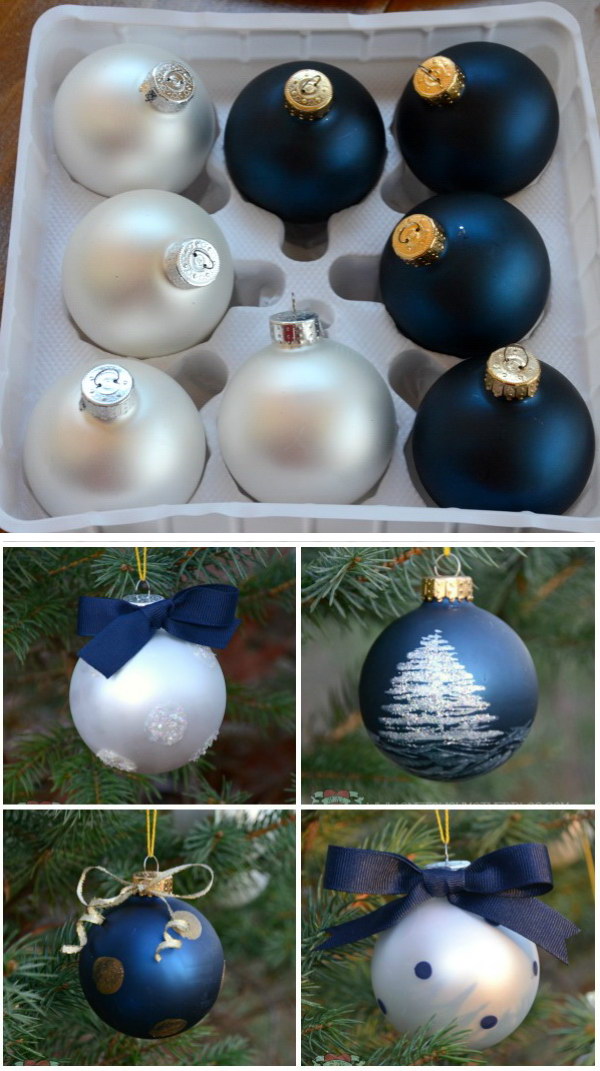 Add a personal touch to your Christmas decor! Easy, quick and fun to do! Tutorial via Sweet Tea And Saving Grace Blog.
DIY Paper Flower Ornaments

Tutorial via Useful DIY.
Hot Cocoa Mix Ornaments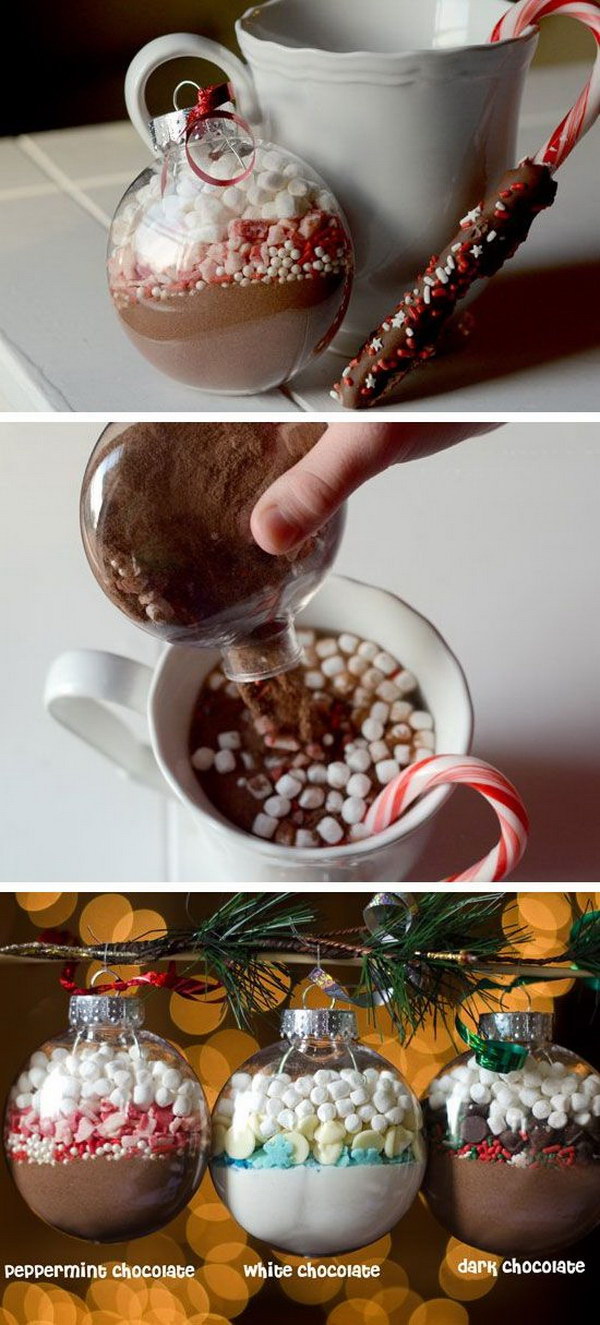 These hot cocoa mix ornaments are so easy and frugal to make. You can make for everyone you want with different hot cocoa varieties. See the full directions via Bubbly Nature Creations.
Rustic Wood Slice Ornaments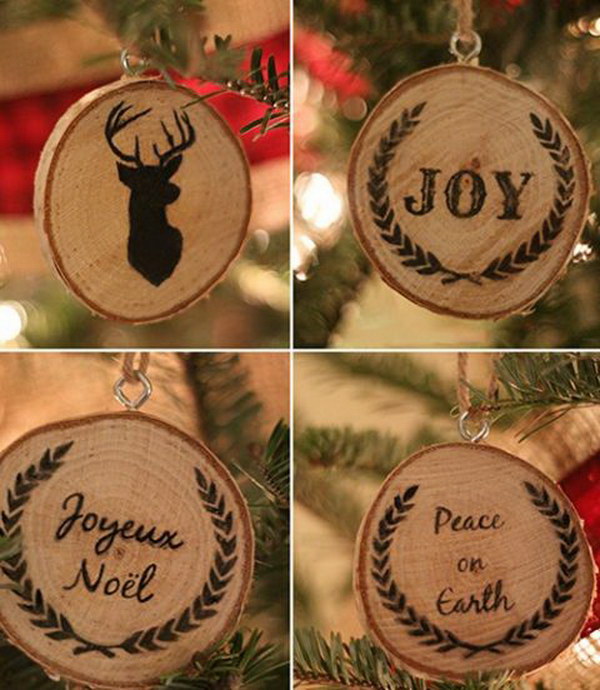 Wood slices emblazoned with seasonal messages are great at home for a country Christmas display. Tutorial via Upcycled Treasures.
DIY Glittery Snowball Ornaments

Tutorial via ideasparadecoracion.
DIY Cupcake Ornaments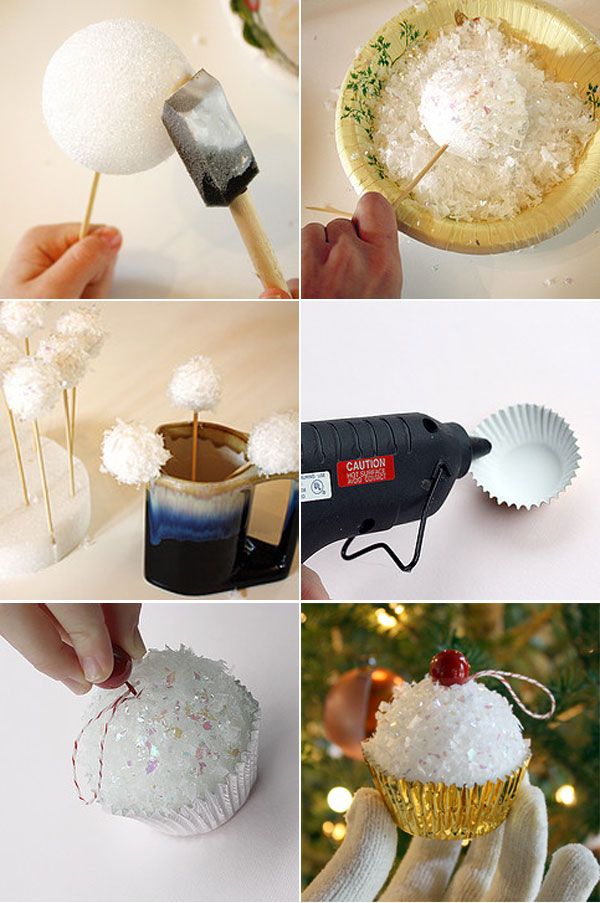 Tutorial via wonderfuldiy.
DIY Bulb Snowman Ornaments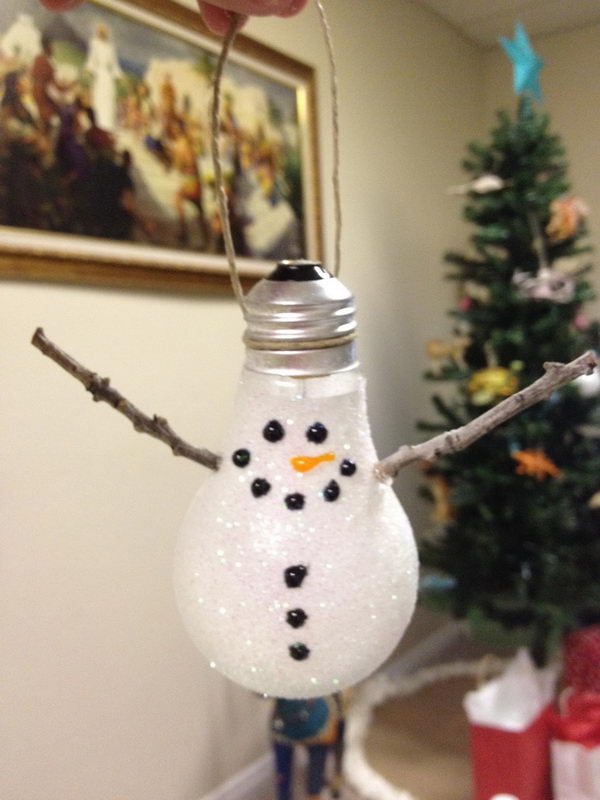 Tutorial via kelseybang.
DIY Tealight Snowman Ornaments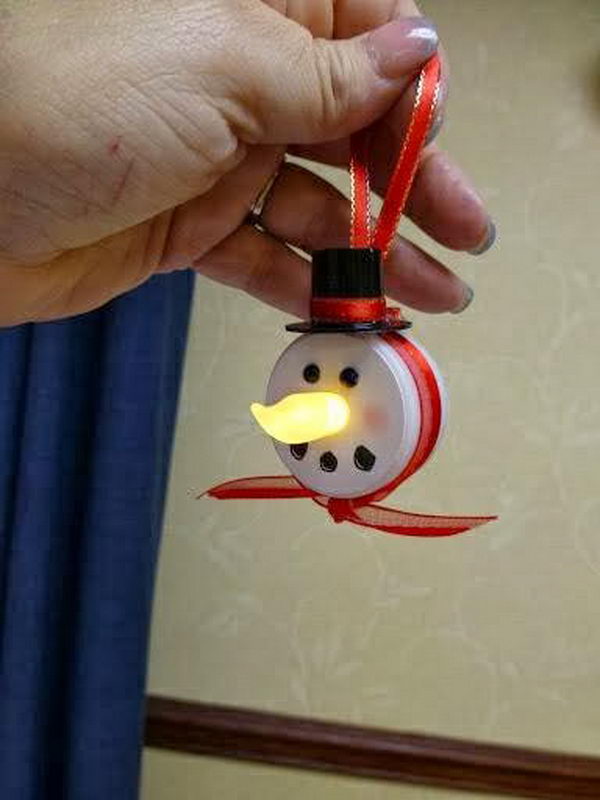 Tutorial via pagingfunmums.
DIY Cork Reindeers Ornaments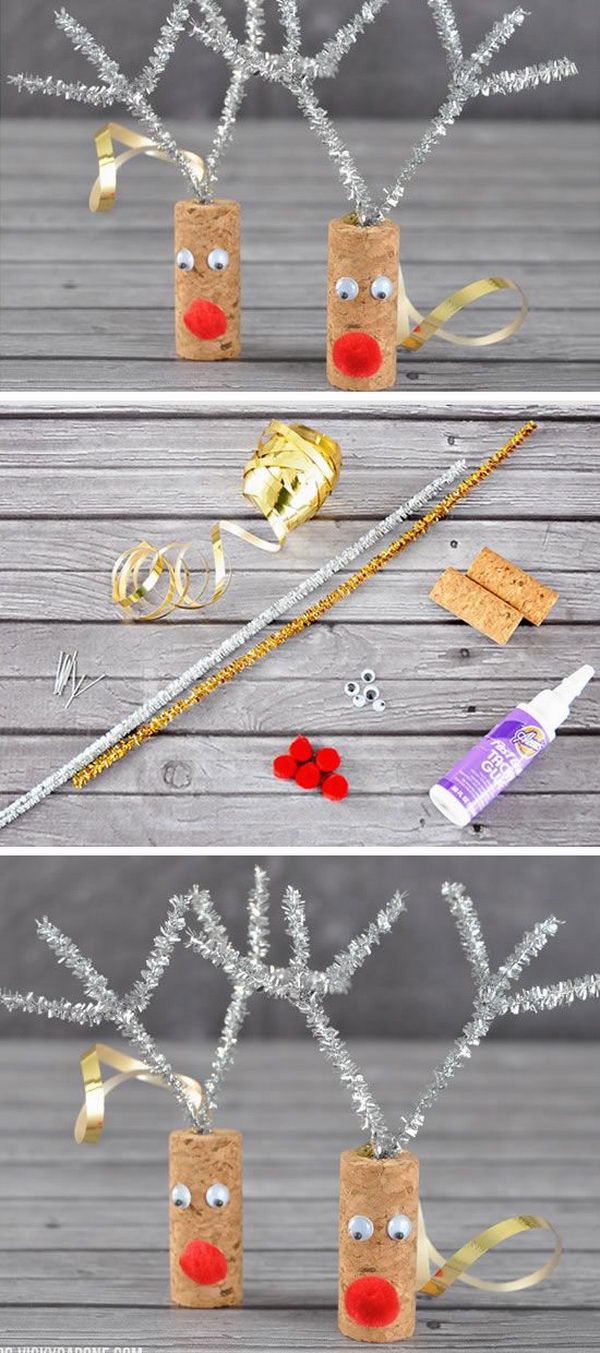 Tutorial via vickybarone.
DIY Cinnamon Stick Trees Ornaments

Tutorial via consumercrafts.
DIY Hot Glue Glittered Snowflake Ornaments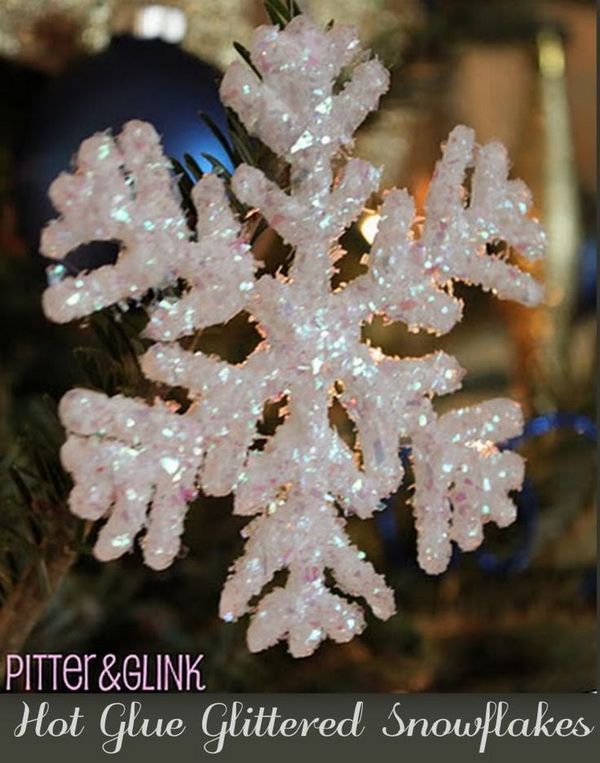 Tutorial via bystephanielynn.
DIY Fun Family Photo Ornaments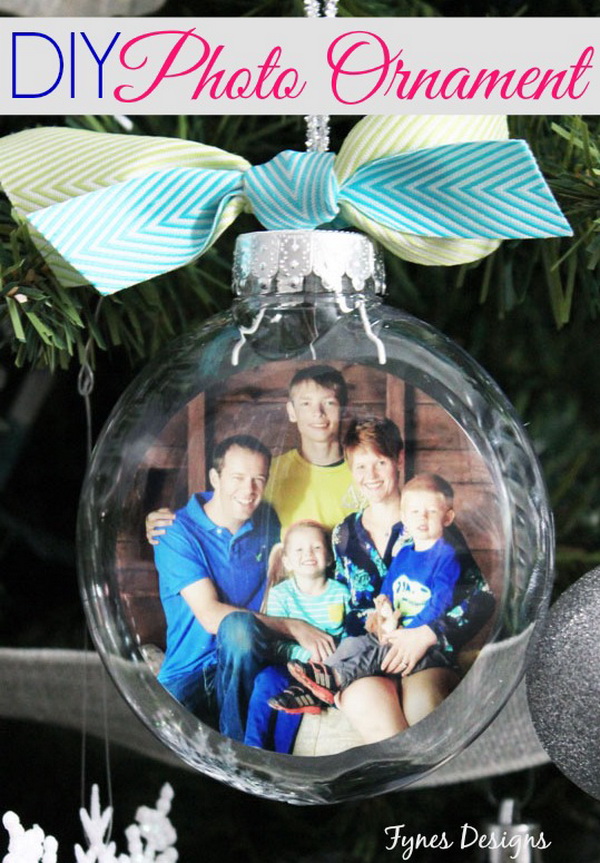 Tutorial via fynesdesigns.
DIY Personalized Glitter Ornaments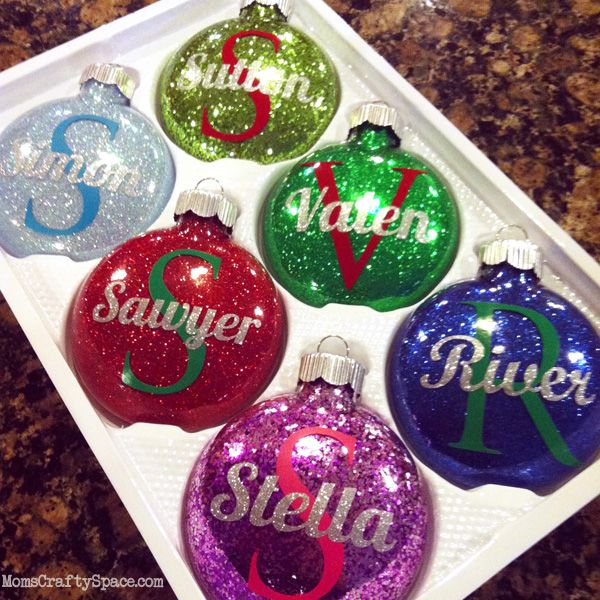 Tutorial via happinessishomemade.