Mercury glass also known as silvered glass is glass that has a silvery appearance. Though it's called mercury glass, it actually contains no mercury. Mercury glass has a very similar look to antique mirrors that are mottled. And you can get the excellent sparkling shine mercury glass effect with mirror paint. Mercury glass paint has many colors such as silver, gold, blue and pink.
The vintage class look of mercury glass can instantly create atmosphere in any space. So people today are more and more obsessed with using mercury glass in their home decorating. But the beautiful mercury glass items always come with high price tags. The good news is beautiful mercury glass can be made with your own hand and the process is easy, frugal, creative and fulfilling. In today's post, we're sharing some of the most beautiful ideas and tutorials showing you how to make cheap decorations look like mercury glass. With a variety of goodwill glass pieces, a little spray paint, and the scratched mercury technique, you can get your own unique and vintage looking mercury glass in no time at all!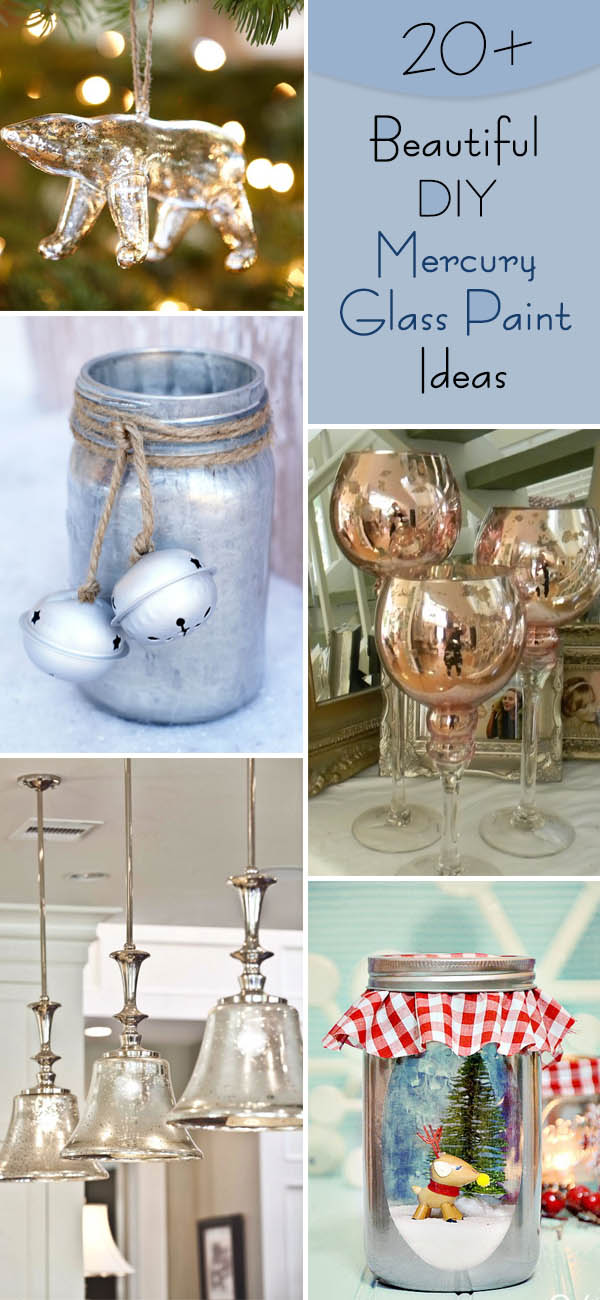 Browse these photos of mercury glass projects to find more ideas and how to make them with your own hands. They are all very beautiful and creative, and you won't believe how easy it is to make!
We've been working on this list for a long time, but I'm sure there are many more awesome DIY ideas that we've missed. So if you know one or have done a cool DIY project for your home, feel free to share it in the comments! Thank you!
Spray Paint Faux Mercury Glass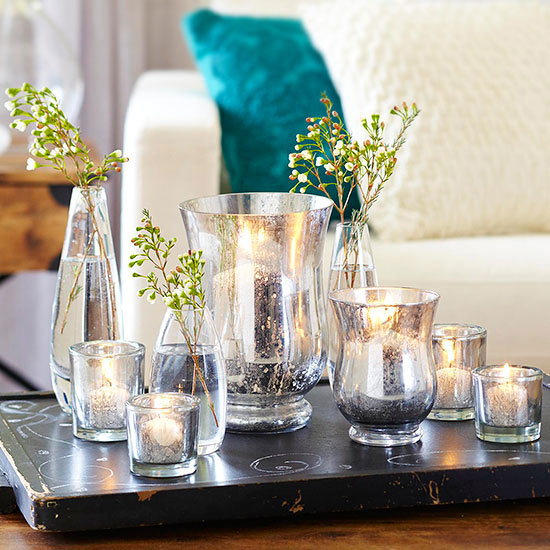 Get this simple look with krylon looking glass mirror like spray paint. The trick is to spray water on the vases before the paint. It gives it the mist effect. source
DIY Vintage Snow Globe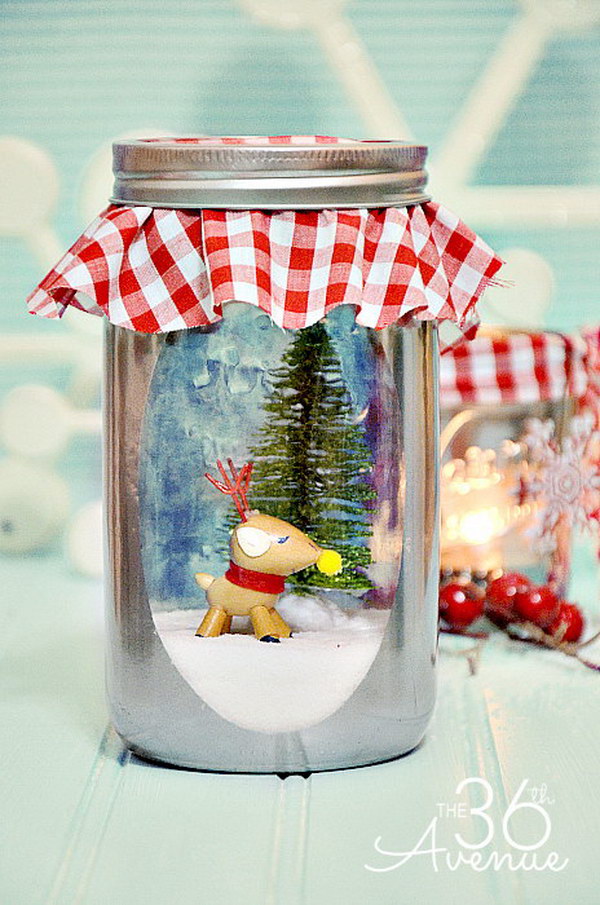 Get the details via the36thavenue
DIY Mercury Glass Pumpkin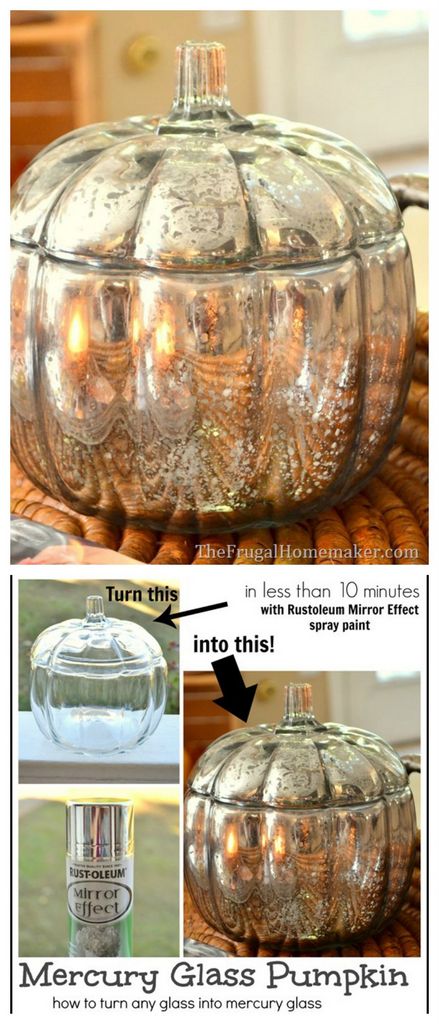 'Mirror effect' spray paint can transform any glass into this gorgeous looking mercury glass! Try this with thrift store glass pumpkins. Tutorial via thefrugalhomemaker
Mercury Glass Mason Jars Tutorial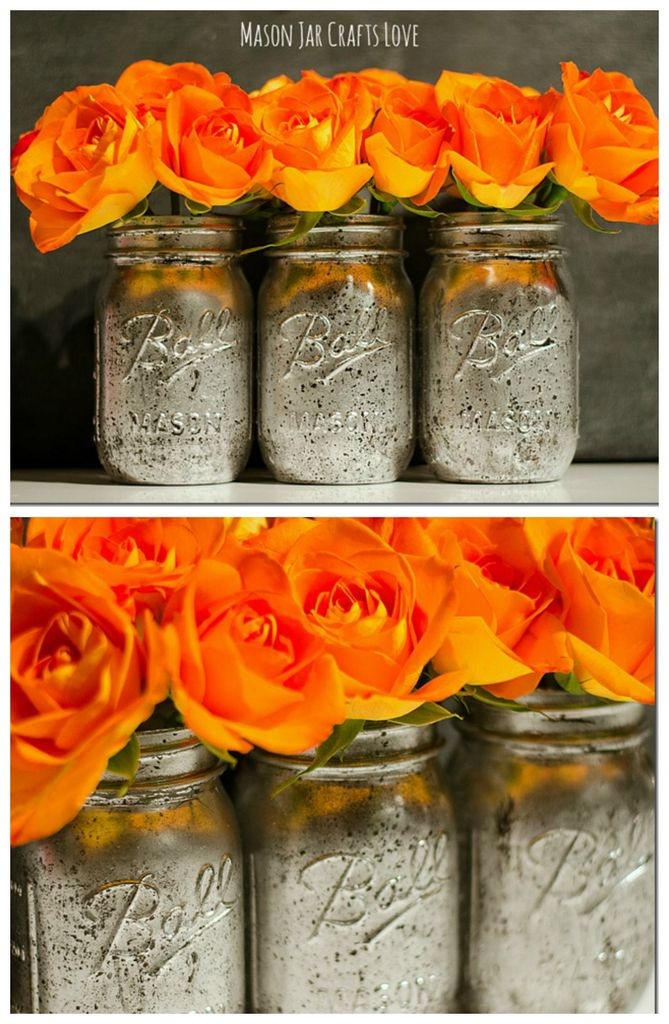 Make frugal and beautiful mason jars for displaying fall flowers by using recycled mason jars and metallic spray paint. The tip is to spray the jars with equal parts water and white wine vinegar before the paint. Tutorial via masonjarcraftslove
Mercury Glass Look Spray Paint Pine Cones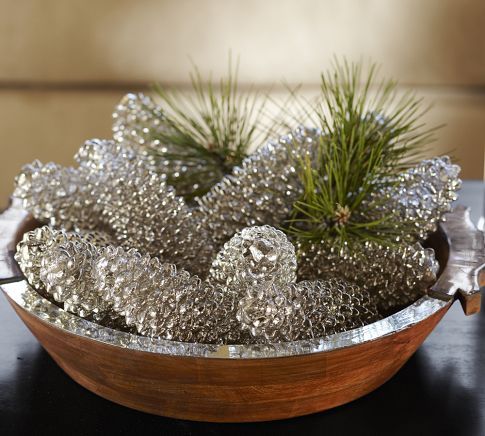 Use Krylon Looking Glass spray paint on pine cones to give that mercury glass look. This link really doesn't tell you how to do this, but it's pretty self explanatory. Via potterybarn
DIY Antiqued Mercury Mirror Glass Vases

What fun! Perfect for weddings, these DIY mirror glass vases are so easy! Tutorial via weddingpartyapp
Spay Paint an Old Window to Get a Mirror Look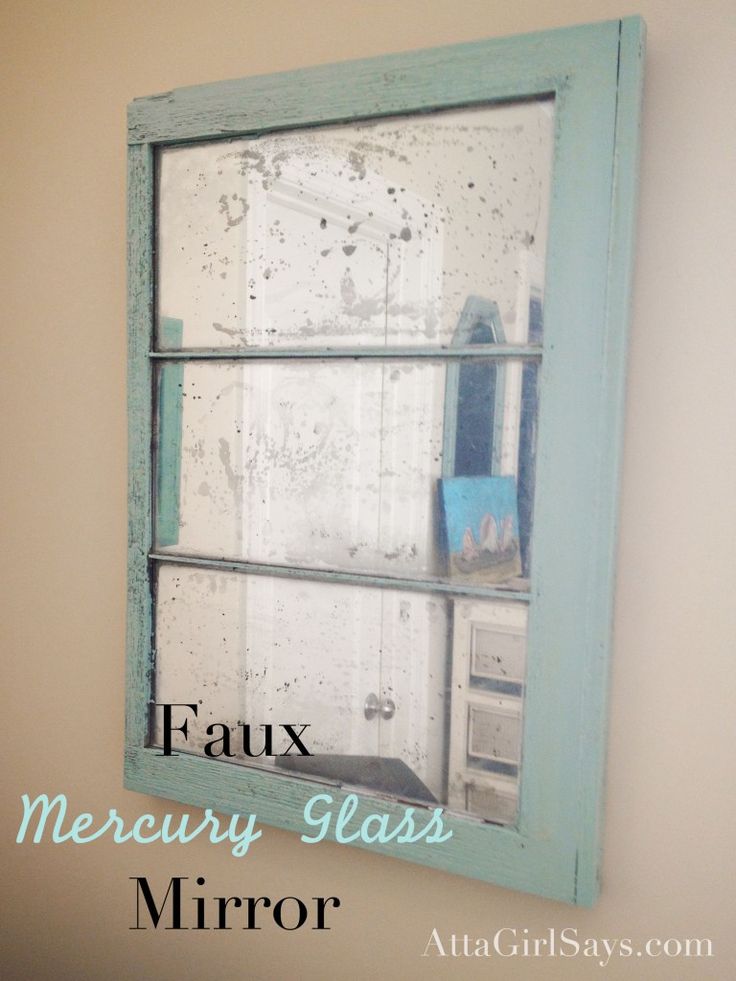 Turn any piece of glass into a mirror with krylon glass spray paint. Tutorial via attagirlsays
DIY Mercury Glass Lamp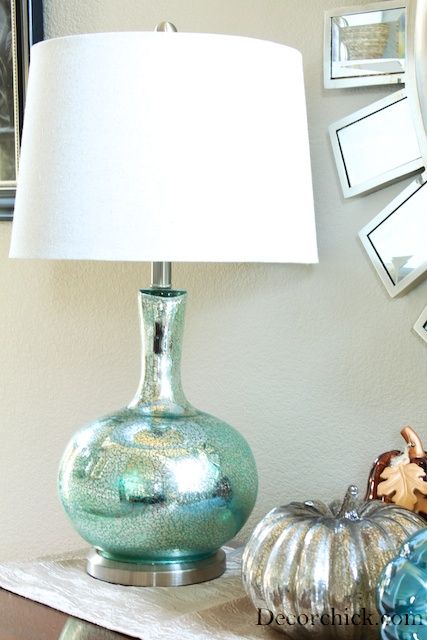 A little mercury glass spray paint makes a thrift store lamp get a gorgeous and expensive look. Paint the lamp white, gold or blue first to give it a pretty tint to get the exact color you want, Via decorchick
Mercury Glass Pendants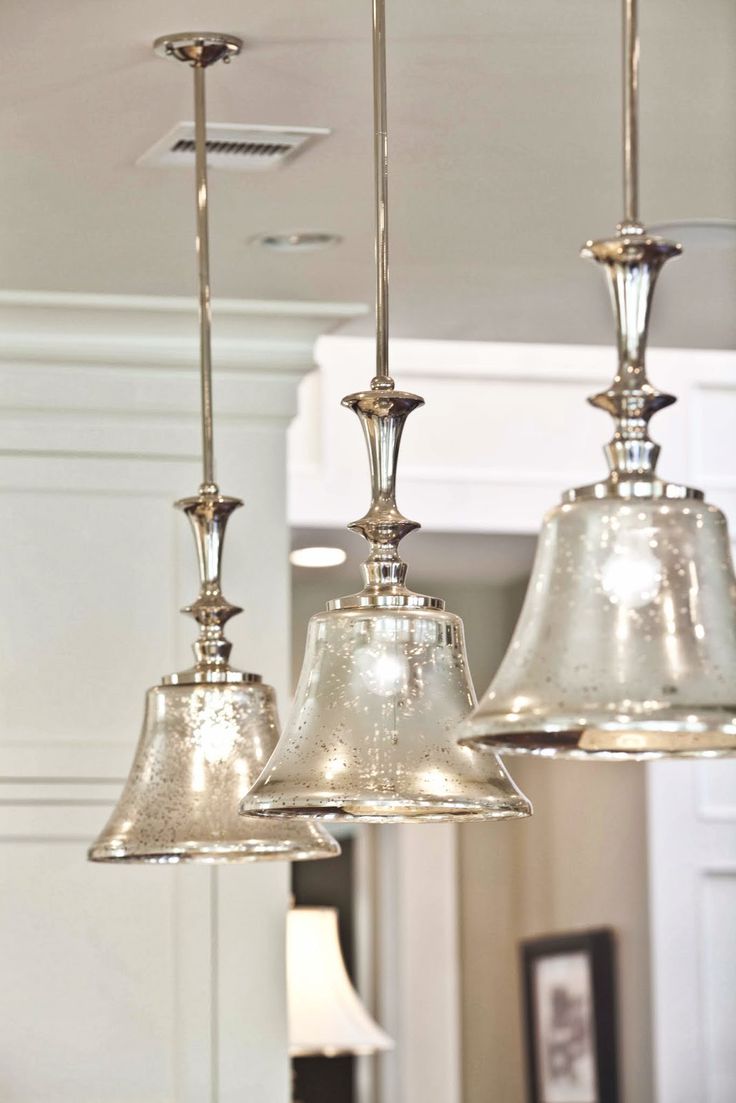 Use Krylon Looking Glass Spray Paint and thrift store glass pendants to make your own mercury glass pendants for instant atmosphere in any space. Via cedarhillfarmhouse. See how to via tatertotsandjello
DIY Mirrored Mercury Glass Mason Jars in Any Color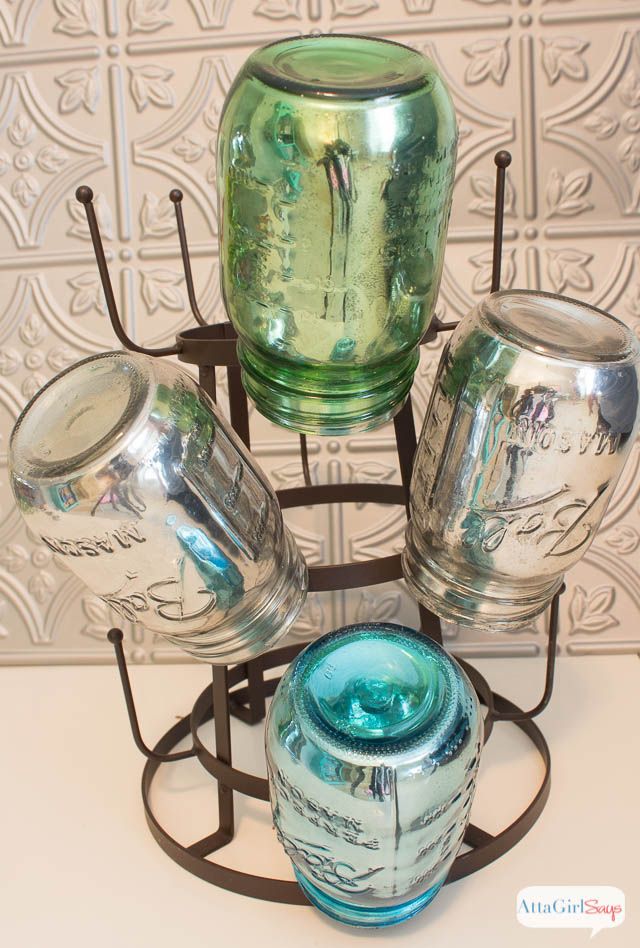 Use Krylon looking glass spray paint to dress up your mason jars. This is an easy way to add a metallic shine to your home. Tutorial via attagirlsays
DIY Mercury Glass Candle Holder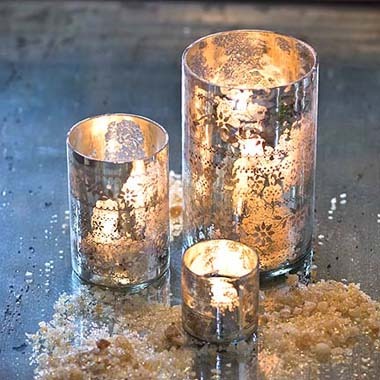 Learn how to use dollar store glass and Krylon looking glass mirror-like paint to make your own inexpensive mercury glass. This is also a cool way to use old bottle or vases that no longer look good or fit your decor. Tutorial via birgitkerr
DIY Pink Mercury Glass Tealight Holder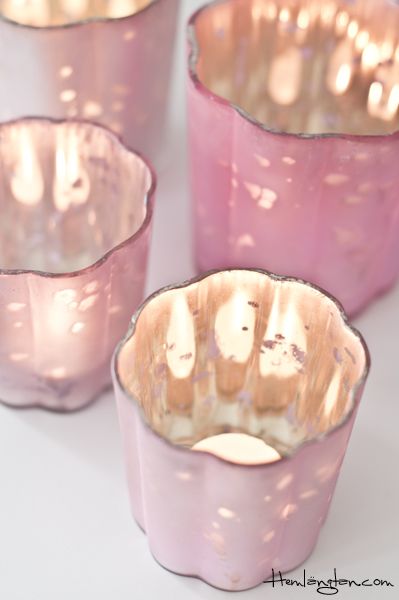 Paint the inside of your glass votive holder as desired with pink paint followed by Krylon's Looking Glass spray paint. Get the Mercury Glass look by pre-spraying the glass with water and just a touch of dish liquid or vinegar, spray with Krylon Looking Glass paint, let dry, repeat process until you achieve the 'depth' you are happy with. Via pinterest. Learn how to via homemademodern.
DIY Winter Crystal Mercury Glass Ornament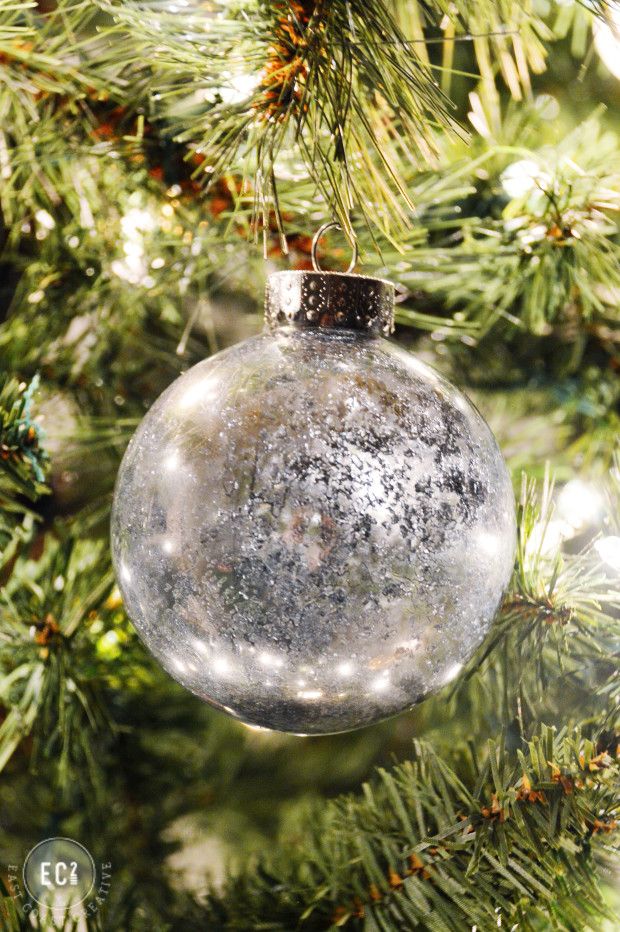 This beautiful mercury glass ornament is easy to make. And it is the perfect family project! Get the tutorial via eastcoastcreativeblog
DIY Faux Mercury Glass Tutorial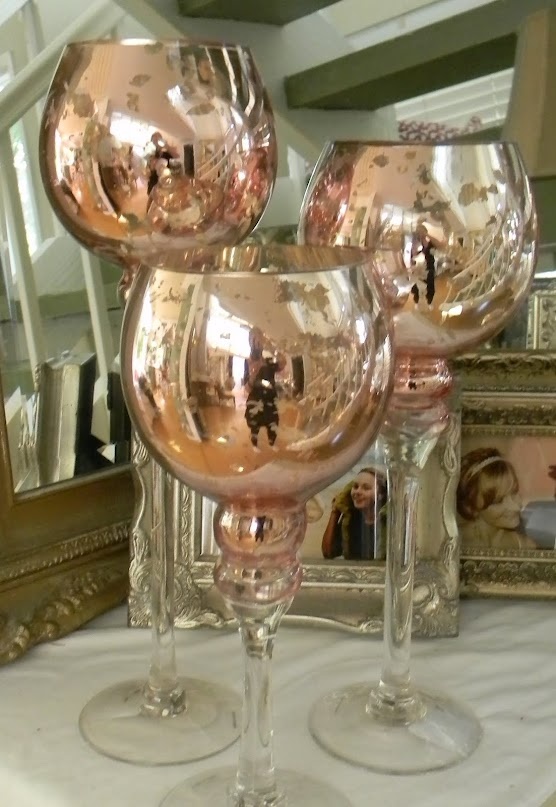 These would look great with votive candles and flowers. Mercury glass tutorial: Spray a very light base coat of any color Krylon spray paint, dry overnight spray a coat of Krylon looking glass paint immediately spray your piece with a 1/2 water/ 1/2 vinegar solution, let sit for a minute pop the little bubbles with a paper towel to make it shiny spray a very lightcoat of clear high gloss. source
DIY Mercury Glass Style Ornament from a Plastic Toy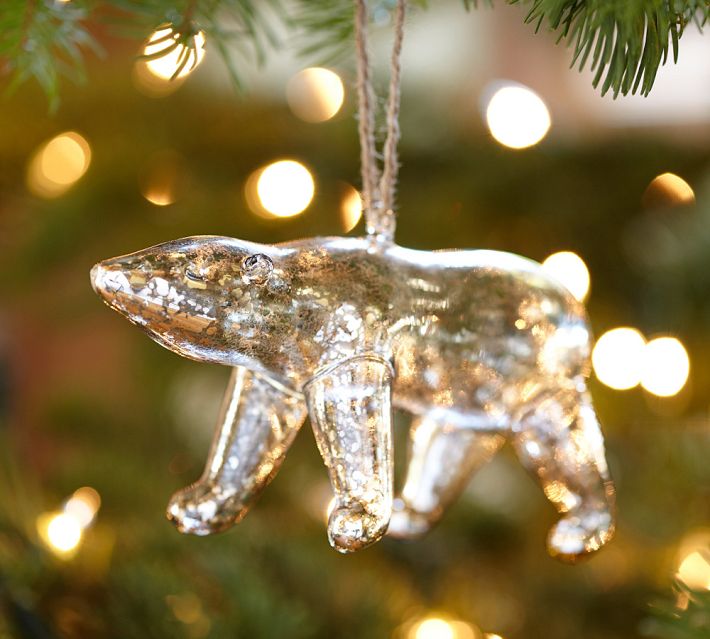 Love these mercury glass vintage style ornaments. You could do these with spray paint and plastic animals. Tutorial via createcraftlove
DIY Mercury Glass Plates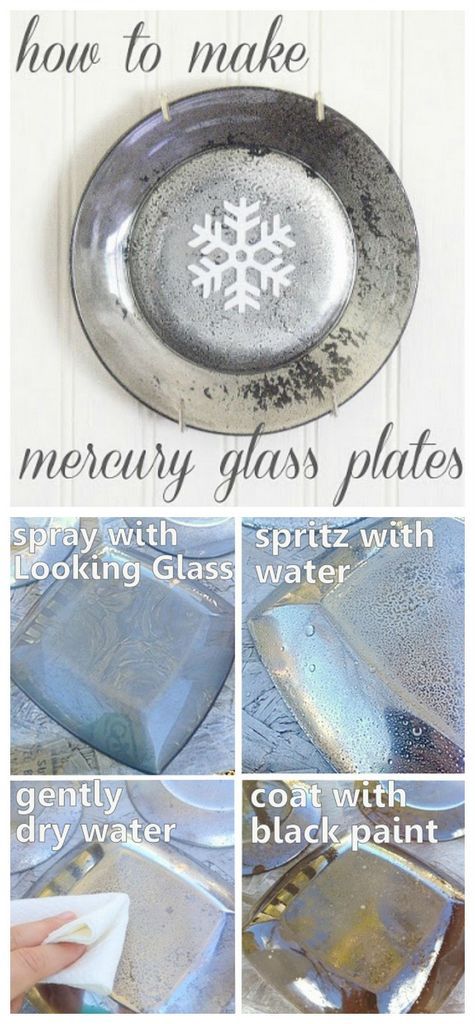 Tutorial via theshabbycreekcottage
DIY Mercury glass Vases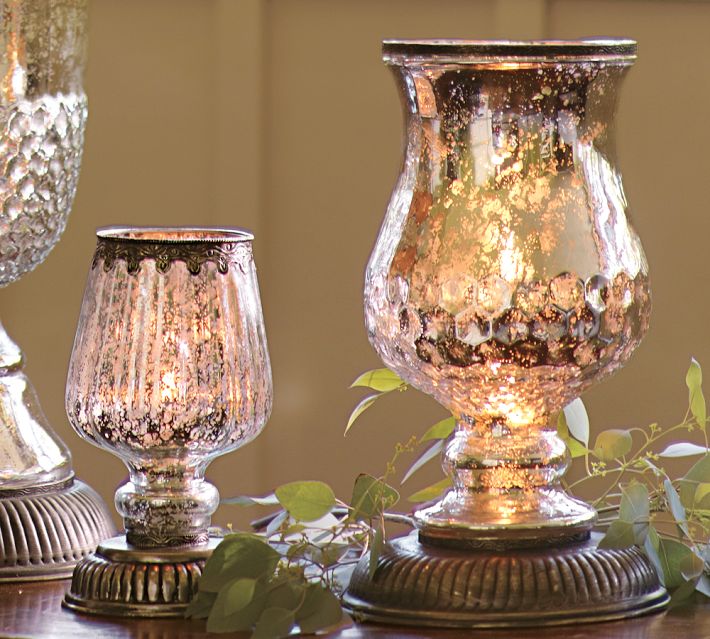 Give plain glass a trendy mercury glass makeover with mirror-effect spray paint. Tutorial via astylishinterior
DIY Pottery Barn Style Mercury Glass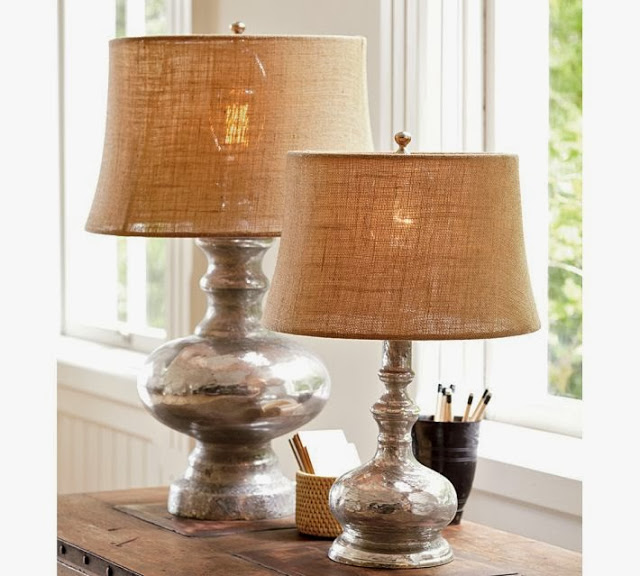 Wow, they look so elegant! You can make them yourself using thrift store clear glass lamps. Tutorial via shineyourlightblog. To buy here
DIY Faux Mercury Glass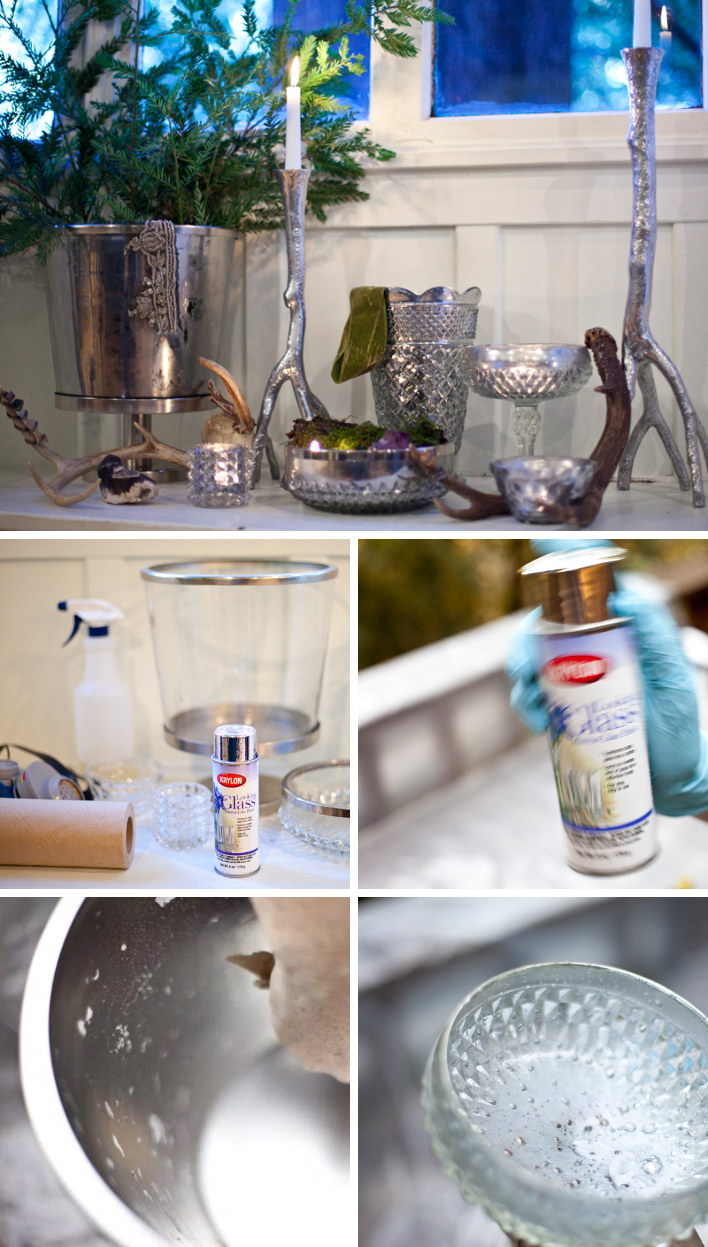 Create your own expensive looking mercury glass in just a few easy steps, saving a lot of money! Detailed tutorial via makezine
Easy Mercury Glass Votives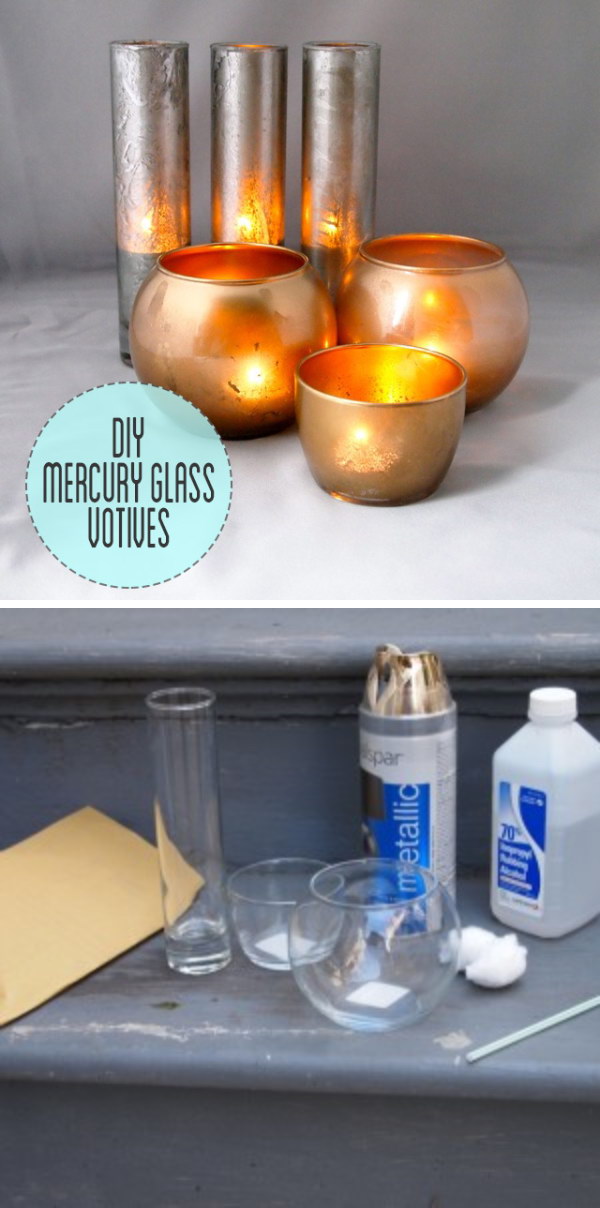 How to create expensive looking mercury glass votives with spray paint and rubbing alcohol? Tutorial via crafthabit
DIY Mercury Glass Letters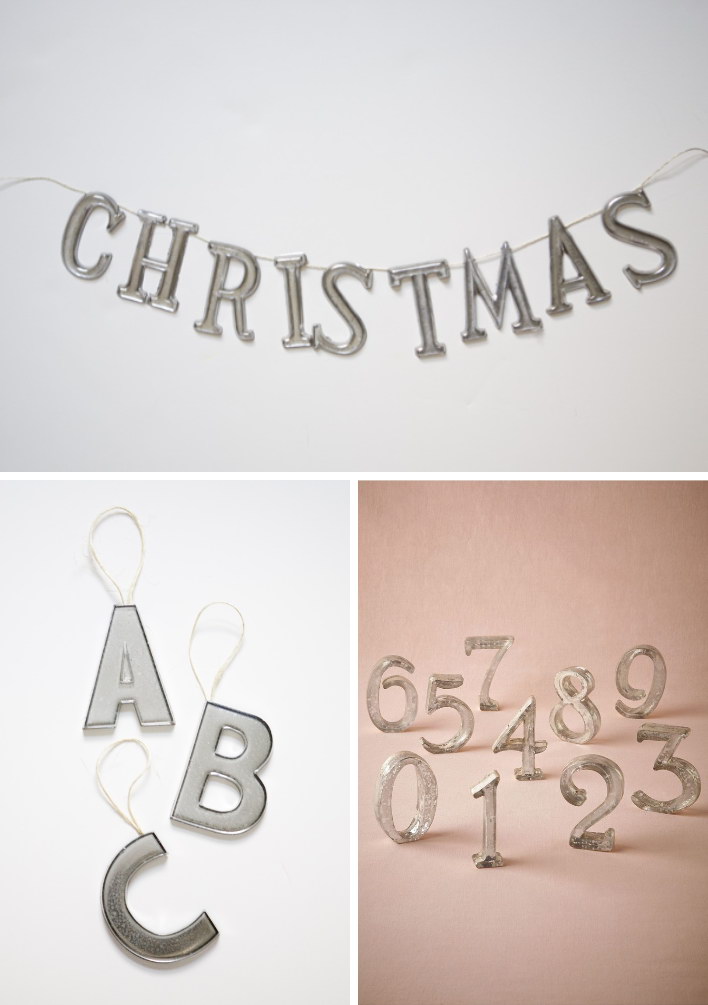 These acrylic faux mercury glass ornaments cost for less than 50 cents a letter and they turn out so beautiful. Tutorial via ruffledblog
DIY Pottery Barn Inspired Mercury Glass Vase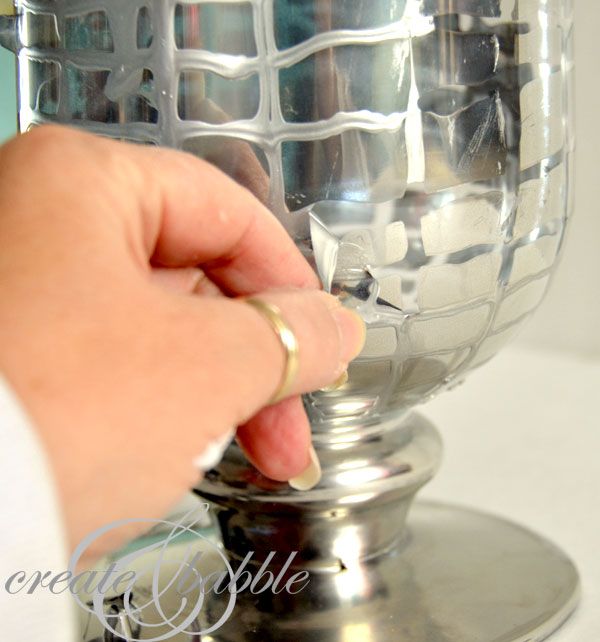 How to take a cheap glass vase and make it into an Pottery Barn style mercury glass vase with Elmer's school glue and Krylon Looking Glass spray paint. Tutorial via createandbabble. See more Pottery Barn inspired knock offs here.
Dresser Makeover Using Krylon Looking Glass Paint

Learn how to get this gorgeous look via diyfunideas
Cute Mercury Glass Mason Jars Tutorial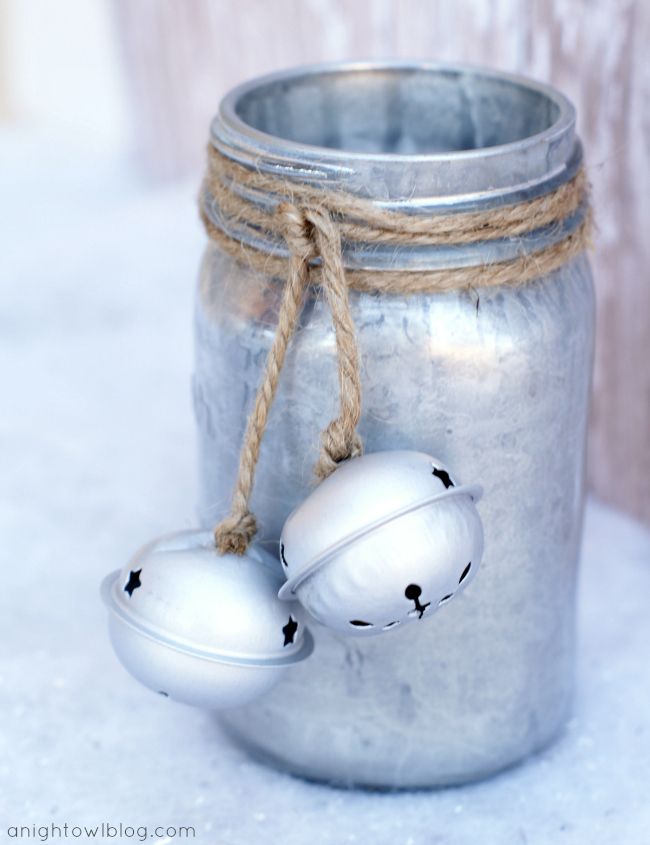 For your holiday decor, try making these mercury glass mason jars! All you need are empty mason jars , looking glass paint, DecoArt Americana zinc acrylic paint, and a bit of water. Learn how to get this cute look via anightowlblog
Mercury Glass Jewellery Tray Tutorial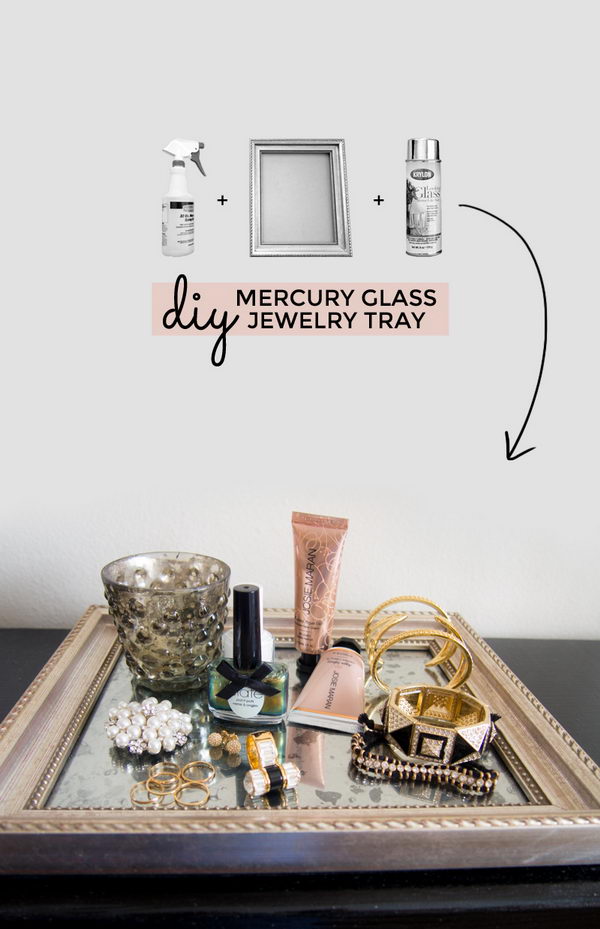 Learn how to via sprinkles